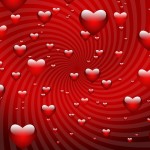 A giant glittery card filled with sentiment, a selection of soppy love songs blasting out from the iPod docking station and a bunch of scented candles sprawled out across the top of the porn drawer; it must be that time again, it must be Valentine's Day!  Twenty-four hours of unadulterated love, wrapped up with a big kiss and the guaranteed chance of some much needed bedroom athletics.  Ah, perfect bliss.  However on the flip-side often the truth is TWENTY-FOUR HOURS spent staring at your Hollyoaks Hunks calendar whilst screaming to the high heavens demanding to know why you are single?!  Love it or hate it there are two ways to view Valentine's Day; the love-filled way that is perfect and magical and the way that many boys relate to, the way known as 'harsh reality'.  Welcome to Valentine's Day, you'll learn to understand it.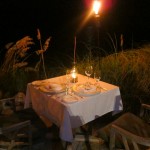 Hoped for Valentine's Day

LOVE STORY:
Ah Valentine's Day, the ultimate day with which to express undying love for a superhot sexy guy.  A day filled with romance, intimacy and passion that has love connections dating back to the writings of poet and author Geoffrey Chaucer.

SAFE TEXT:
Writing intelligent, witty, yet naughty texts to tease and excite a hunk into the bedroom.  Texts that are so cleverly written that they should be documented in the Official Gay Handbook Of Romantic Verses and used to teach other boys how to be cute little Cupids.

GIVING:
Searching for the perfect gift for the best boyfriend… in the universe… ever!  A search that is so intense that it involves cancelling a spray tan session and then looking high and low, long and hard, in order to make the most important man feel extra special, because he is worth every precious penny.

EATING OUT:
Wining and dining the fella of your dreams over a romantic candlelit meal for two that includes flowers, chilled tunes and exotic aromas in a picturesque bistro.  A night that has been written on the calendar (in permanent marker) ever since the unsuspecting guy agreed to the date and is set to become the most sexy, yet intimate, event of the year.

IN THE KNOW:
Being in love with the hottest guy in town and knowing exactly where you stand.

BREAKING BARRIERS:
Love transcending all boundaries, including culture, language, social and religious beliefs to create the greatest love of all time between two soul mates of equal standing.  The sort of love that makes all the other boys happy that you've found 'The One' at long last, whilst at the same time your happiness puts a smile on the face of even the most bitter of old queens down your local.

MY ENDLESS LOVE:
Loving unconditionally.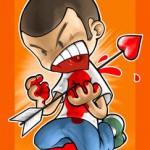 Real Valentine's Day

TRUE STORY:
Ah Valentine's Day, a constant reminder of a bunch of dead saints all named Valentine who were either interrogated, involved in paganism or executed; which is about as romantic as a night in reading The Da Vinci Code whilst Eastenders plays out in the background.
TAKE A DIRTY PICTURE:
Receiving a dirty, yet crappy picture of some random guy's winkle, that was clearly intended for someone else of less discerning taste!  Not only that, but a picture so disturbingly amateur that even cheap homemade porn sites wouldn't give it away for free and at times it looks less like a willy and more like a small root vegetable.
RECEIVING:
Knowing that almost £1.3 billion a year is spent on cards, chocolates and novelty crap that could have instead been spent on iTunes vouchers, a shopping spree at Harvey Nics or downloading emo porn!  Seriously, there's a lot of porn out there and £1.3 billion would certainly keep guyliner-wearing-emos gyrating for quite some time; especially with a superfast broadband connection.
MAKING A MEAL OF IT:
Sitting with the other half in a cramped wine bar (next to the door), with a bunch of wilting Daffs in the middle of the table, whilst the greatest hits of Barbara Streisand gets stuck on repeat.  Oh and there's no garlic bread or cheesy chips on the menu, no sparkling wine on chill and there's a distinct lack of mayonnaise sachets in the condiments tub.
CONFUSED.COM:
Being in love with the hottest guy in town and convincing yourself you know exactly where you stand.
MAKING BARRIERS:
Love transcending all boundaries, including culture, language, social and religious beliefs… until realisation has set in that you're never going to get more than a quick fumble around the back (of the pub, that is), because he's got a boyfriend who he says he loves
HOPELESSLY DEVOTED TO YOU:
Loving unconditionally… after two bottles of wine, three shots of Cherry Sourz and a rum and Diet Coke