Terry George tellin' stories – By Royal Appointment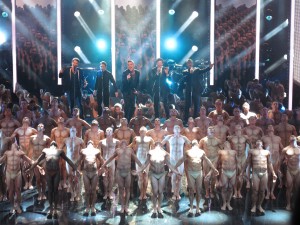 By Royal Appointment
Words and photographs by Terry George
Despite all the raucous noise outside in the streets of London as protesters made their feelings known about the government's change in the financing of the country's education, I cosied down, in the presence of HRH Price Charles and his missus, to an evenings entertainment thanks to the Royal Variety Performance.
It's my forth such event and, like on every other occasion, the acts were brilliant but it was the post-show that was the most fun. Don't ask me how I did it but I managed to sneak my way backstage to hobnob with the stars after their appearance. The first person I bumped in to was Robbie Williams, now he and I go way back but alas, the last time we met he didn't remember me at all referring to his months in re-hab and his memory problem. This time I detected a brief recognition and once we got chatting he remembered who I was and we got on like a house on fire. It was like going back to those halcyon days when Take That were just starting their career and making appearances at gay clubs all across the UK. Mark came up and greeted me with a hug and a kiss, Jason was his usual friendly self, Howard, who knew me from those early days and from when he occasionally took to the decks at one of my clubs, came over for a chat. It was good to see the ever-smiling Gary greet me enthusiastically with a firm shake of the hand and some words of shock at seeing me backstage. He was obviously still on a high having all the boys back together and happy that the old magic was there. The staging was pretty spectacular with what seemed like a cast of thousands and of course they were simply fantastic… no wonder their album, Progress, was the fastest selling album of 2010.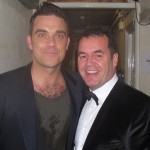 I have to say that I love the Royal Variety Performance simply because you get such a fantastic mix of acts. Where else would you get the likes of Susan Boyle and Kylie on the same bill as the fantastic acrobatic troupe Spelbound, comedienne Sarah Millican (see our fun interview in this issue) and Jamie Callum. The list of stars goes on but I wouldn't have missed the show for anything it is just such a fun occasion and completely unlike anything else on TV.
Continuing back stage I was happy to chat to Russell Watson, the man had stayed at the castle we now rent out to those who want a bit of luxury and privacy and talked about how he was planning a return visit soon as he'd loved it so much. I popped in to see Michael McIntyre, who, a couple of years ago was a newcomer on the bill and desperate for a few nice words as he was very nervous. I complimented him at the time and he seemed really grateful that I'd taken time out to offer him encouragement. Oh heck, how things change. This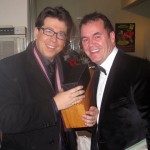 time I was looked at suspiciously and the request for a photograph was, after some debate, reluctantly agreed. He may well be thought of as the funniest man in the UK at the moment… and he was very, very funny hosting the event, but… and I realise this might be just me… that kind of attitude doesn't suit anyone.
I wonder if the rumours about him and other comedians on the circuit are true!