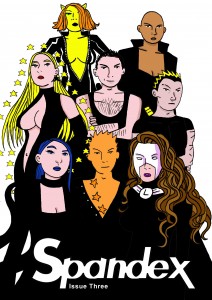 Spandex, the world's first all-gay superhero team and stars of their own award-nominated comic, are back! And in the brand new issue, things take an unexpected turn, when the team face a whole horde of …celebrity gay zombies!
Spandex Comic creator Martin Eden comments: "I was doodling one of the pages and I thought it would be fun to cram in as many famous gay people as possible – as zombies! It's a bit of a who's-who of LGBT people in the media – they just look a bit scarier…"
The new Spandex issue, entitled '…If you were the last person on Earth', is a one-shot sci-fi/horror story, where the world's population is enslaved and turned into the living dead by an alien creature called Nadir.
Since its launch in November 2009, Spandex comic has earned an Eagle Award nomination for Best British Comic, and gained national radio, television and newspaper coverage, including appearances in The Sun and The Metro.