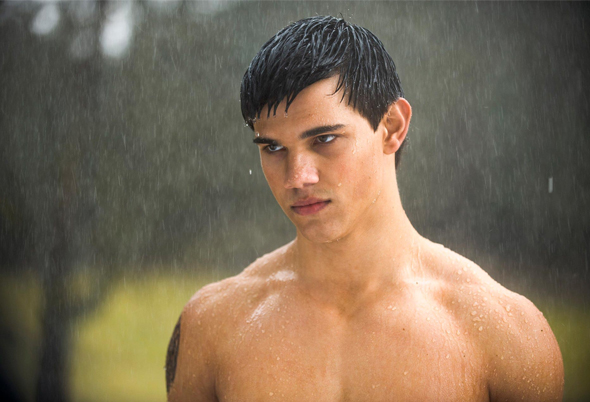 Decisions, decisions, decisions, life's full of them and they're never easy. Do you go with the crowd and declare your dream boy is the dangerous type, who has to die for chiselled good looks, but in reality is likely to leech off of you for most of your life? Or do you instead go with your heart and admit if truth be told you much prefer a fella with a hairy back, who snarls a bit when he's angry, but is always a guaranteed beast in the bedroom? Tough isn't it. Well fear not boys, the beast in question on this occasion is teen wolf Jacob Black, played by actor Taylor Lautner in the Twilight saga and far from being a real scare bear, underneath all the face fuzz Taylor is actually a real cutie in wolfs clothing. As far as werewolves go, Taylor is arguably the sexiest of the bunch and thanks to his mesmerising topless scenes in the Twilight films he's currently building up a faithful following amongst the gays. With his killer abs and come and 'do me' eyes, Taylor certainly knows how to work a crowd every time he whips his shirt off, which at the moment is pretty much whenever he's on screen and it certainly does seem to be a bit of a trademark for him. So with a body sculpted from the finest beef and a smile more inviting than a dirty weekend with Ashton Kutcher, Taylor Lautner is arguably the creature of darkness every guy would like to go bump in the night with.
Born in the US, but from a mixed ancestry (including Dutch, French, German, distant Native American and fittie), Taylor is currently one of the hottest young stars in Hollywood and thanks to his profile raising appearances in the Twilight movies Taylor has become the werewolf poster boy that Eddie Munster could have only dreamed of. You may think you've only just started to see him pop up on screen but the truth is Taylor's been around for quite a while, including performances in a handful of American TV shows and the odd film appearance too. In fact Taylor Lautner has been in the biz for quite a while now and he began auditioning for roles when he was just seven years old, which makes him a pretty hardworking chap as well (and you just thought he was fit). He's clearly not a munter and this alone has helped him attract an ardent following of screaming fan boys and thanks to the fact that he's over the age of 18, admitting you'd give him one doesn't seem as creepy as coming down with an incurable case of Bieber fever. Taylor's also pretty sporty and when he was a tiny tyke he won a heap of martial arts awards including securing the accolade of three times Junior World Champion, which means in his younger days he was a real life karate kid! It's his dedication to fitness that in recent years has seen him buff up to the stud that he is now and it's also the reason he's become the cutest movie monster since Gizmo.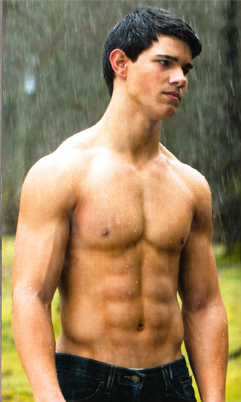 It seems as if Taylor Lautner is a gift from the gods and if truth be told, he is. There may be a lot of buzz about how many times a day Taylor's Twilight co-star RPattz likes to breath, but it's T-Laut (TayNer? TNer?) who is the real hunk of the Twilight movies. Not convinced? Well clearly you've not been making use of the pause button on your DVD remote whilst watching New Moon (2009) and Eclipse (2010). Perhaps you should start. Why else do you think that button's there?! Every time Jacob and the other hunks in his werewolf pack remove their tops to go running around in just a pair of cut-off jeans it's like watching softcore porn and if that's as good as it gets, then you might as well make the most of it. Taylor is the movie mon-star you always dreamed of, he's young, gorgeous and with his acting career taking him further into the spotlight he's soon set to be an even bigger name than he is now. No doubt this will mean even meatier roles and hopefully more chest exposure (hurrah), which is all a positive thing as a world without Taylor Lautner would mean a decreased amount of nipples on show per year! That alone is reason enough to champion any future roles that he secures and the fact that he's worked so damn hard to achieve his jaw dropping physique should be admired and perved over whenever possible. So if you ever find yourself choosing between a werewolf and a vampire, if Taylor Lautner's involved, it's often best to go with your heart, even if it means reaching for the Veet before getting your groove on.
---
TAYLOR'S OLD AS TIME:
Before Twilight sequel New Moon (2009) started filming, producers considered dropping Taylor from the role of Jacob Black due to the physical transformation his character went through as he became a werewolf. Determined to keep the role Lautner quickly buffed up and after wowing producers with his rock hard chest, he secured the part for the remainder of the saga.
Taylor's first major Hollywood role was in The Adventures of Sharkboy and Lavagirl 3D (2005), but he's a bit young in that one, so maybe think twice before downloading it off iTunes.
Jinkies! Some of Taylor's voiceover work in cartoons has included the likes of Charlie Brown and Scooby-Doo! Wonder if he's ever investigated any dark rooms with just Fred for company?
Taylor is officially wadded for his age and is currently the highest paid teen actor in the US; which is yet another big tick on the checklist of why Taylor is an ideal catch.
Thanks to his muscles making the headlines, Taylor is rumoured to be in line for the title role in a forthcoming movie about toy action hero Stretch Armstrong. If he lands the role he will play the superhero who can stretch any part of his body. ANY PART OF HIS BODY!
---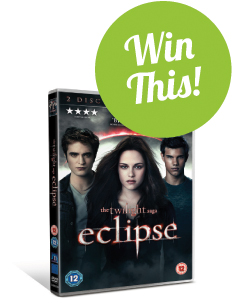 Once again Bella finds herself surrounded by danger as Seattle is ravaged by a string of mysterious killings and a malicious vampire continues her quest for revenge.  In the midst of it all, she is forced to choose between her love for Edward and her friendship with Jacob knowing that her decision has the potential to ignite the ageless struggle between vampire and werewolf.  With her graduation quickly approaching, Bella is confronted with the most important decision of her life.
Extras:
Over three hours of amazing extras including two commentaries, deleted and extended scenes with audio commentary from the director David Slade, a six part making of documentary, a photo gallery, Edward Fast Forward, Jacob Fast Forward and music videos from Muse and Metric.
To be in with a chance to win a copy of this DVD, just answer this simple question:
Name the character Taylor plays in the Twilight series.
---
Bent Magazine Prize Draw Terms & Conditions
1. The prize draws are open to UK residents aged 18 and over. 2. No purchase is necessary. 3. Only one entry per person is allowed and multiple entries will result in an entrant being disqualified. 4. The deadline for receiving entries for the competition is the last working day of the magazine's month. 5. Winners will be notified within 28 days after the competition closes. 6. Proof of delivery or email will not constitute proof of entering the prize draws and no responsibility will be accepted for lost, corrupted, delayed or mislaid entries. 7. The winner(s) will be the first valid entry drawn at random. 8. Bent reserves the right to substitute the prize for another prize of equal value. 9. There are no alternative cash prizes. 10. Bent Magazine's decision is final and no correspondence will be entered into. 11. When you enter a prize draw, your details will be used to provide you with updates, information and promotions from Bent and other members of APN Ltd. You can opt out at any time by following the Unsubscribe link on the bottom of every email or by sending an email to unsubscribe@bent.com asking to be removed from our mailing list. 12. By submitting an entry, all entrants acknowledge and accept these terms and conditions. By taking part in any prize draws or competitions, you agree to be bound by these rules and the decisions of Bent Magazine which are final. 13. Bent Magazine reserves the right to disqualify any entrant and/or winner in its absolute discretion for any reason and without notice.