TEN THINGS YOU NEVER KNEW ABOUT JOHNNY DEPP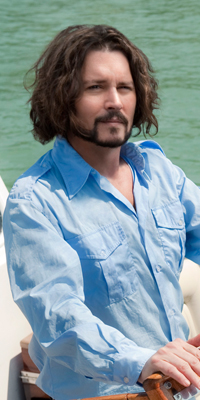 1 Arrested for being in a fight with the paparazzi in front of a restaurant in London in 1999.
2 Has twice recorded with British band Oasis. Most notably, he plays lead slide guitar on the track Fade In-Out, from the 1997 album 'Be Here Now'. Noel Gallagher, Oasis's lead guitarist, was allegedly too drunk to perform it himself, so celebrity pal Depp stepped in and nailed the lead on one take.
3 Ex-fiancées: Sherilyn Fenn, Kate Moss, Jennifer Grey and Winona Ryder.
4 Lists British comedy The Fast Show as his favourite TV program of all time. He used to take tapes of the series on tour with him to keep him amused. Made a guest appearance in the last-ever sketch in its last-ever episode.
5 Purchased Bela Lugosi's Los Angeles home.
6 He and Vanessa Paradis grow grapes and have wine making facilities in their vineyard in Plan-de-la-Tour north of Saint-Tropez.
7 Is scared of clowns.
8 Has a nightclub named after him in Tartu, Estonia. The nightclub is called "Who wouldn't like Johnny Depp?"
9 Was People Magazine's Sexiest Man Alive in 2003.
10 Nicolas Cage got him his first acting job.
Mega hunk Johnny stars in this month's action adventure The Tourist out 10th December.