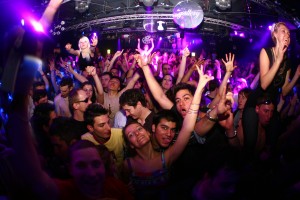 Starting life at their father's club Turnmills, The Gallery was the brainchild of brothers 'Tall' Paul and Danny Newman.  As Danny explains: My Dad who ran the club never really had a regular Friday night. For a while in 1994 we ran a night called Dance Kult welcoming along guests such as Andy Weatherall, Dj Dag and Sven Vath, it had similar hours to Trade starting at 4 am and going on till 11 am on the Saturday morning. It was perhaps a little too hardcore for the time, so we started to explore the idea of something a little more mainstream.
The Gallery has always kept an eye on nurturing talent with the likes of Sister Bliss and Darren Emerson playing regularly in the first year and artists like Groove Armada, Nic Fanciulli, Armin Van Buuren and Lottie holding residencies in their early days The Gallery has been a space where highly talented young DJs to come, develop their skills and go on to become some of the biggest DJs on the planet and this remains testament today with the clubs stunning roster of international and local residents Sander Van Doorn, Markus Schulz, Hernan Catteneo, Martin Roth, John Askew, Gavyn Mytchel and The Viceroy.
To celebrate The Gallery's 15th Birthday not only is there a mother of all parties taking place at The Ministry Of Sound featuring headline performances from the DJ's who performed at the very first birthday party but there's also a UK-club tour, a special limited edition DVD and mix album to celebrate this milestone achievement.
Competition Time
We have copies of this special limited edition DVD and  3CD celebration album to give away and all you have to do to be in with a chance of winning is answer this simple question:
In which club did The Gallery start life?
***************************************************************************
The Gallery 15th birthday: nation-wide tour!
The Gallery prepare to hit the road taking the club on tour to a series of UK-venues alongside a few key international dates – check local listings for full info:
Fri 9th April – The Gallery vs Digital Society / Leeds – Bobina / John Askew / Gavyn Mytchel / Claudia Cazacau
Sat 17th April – The Gallery meets Seven Sins / Brighton – Eric Kupper / Timo Garcia / Gavyn Mytchel
Sat 1st May – The Gallery / Crash / Plymouth – Giuseppe Ottaviani, Gavyn Mytchel
Sat 8th May – The Gallery vs Classique / Coventry – Signum, First Rate, Paul Morrell
Sat 8th May – The Gallery meets Tonedeff / Folkstone – Marcel Woods / Tall Paul / Jon O Bir / Gavyn Mytchel
Sun 30th May – The Gallery at Dance Crusade / Essex – Judge Jules / Richard Durand / Marcel Woods / Tall Paul / Oliver Lang / Gavyn Mytchel / The Viceroy
+More TBC!