Scottish gay Friendly derby
Saltire Thistle beat Hotscots in Scottish gay – friendly derby.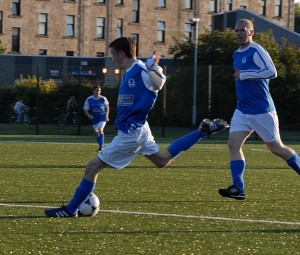 Glasgow's Saltire Thistle may only have been playing full matches for 3months, but this didn't stop them beating Edinburgh counterparts Hotscots FC 3-1 on Saturday in the GFSN cup, Northern Group fixture.
Edinburgh Hotscots won the competition in 2009 and went into the match as favourites. However Saltire Thistle, upset the form book with a fantastic team performance and are now just one game away from the semi final of this UK-wide competition. Glasgow's gay-friendly team, a mix of gay, straight and bi-sexual players are awaiting their next challenge.
Ross McClung, Saltire Thistle chairman and co-founder was delighted with the result. "It was a very good game and both sides have to take credit for that. We hope everyone watching really enjoyed the game, and obviously we're pleased we sent our supporters home happy with the victory. It's important that gay-friendly sides play good football to provide a powerful argument against homophobia. For too long the perception has been that gay people can't play football. On what I saw today, I thought that argument was well and truly answered."
Manager and co-founder Colin Sinclair is looking forward to visiting the team that stand in the way of Saltire Thistle and a date in the semi finals, Village Manchester.
"Obviously I enjoyed the result on Saturday and cannot praise the players enough for how well they have come together as a team in such a short time. However I'm now fully focussed on the next game against Manchester. We've given ourselves a great chance of progression, and don't want to throw it away at the final hurdle."
Mark Samson got the Glasgow side in front with a first half penalty, while Scott Kelly scored straight from a corner kick in the second half. Ross McGinty killed the game off with an acrobatic effort with a few minutes to go while Hotscots got a late consolation goal.
www.saltirethistlefc.com