October is Robbie Williams month.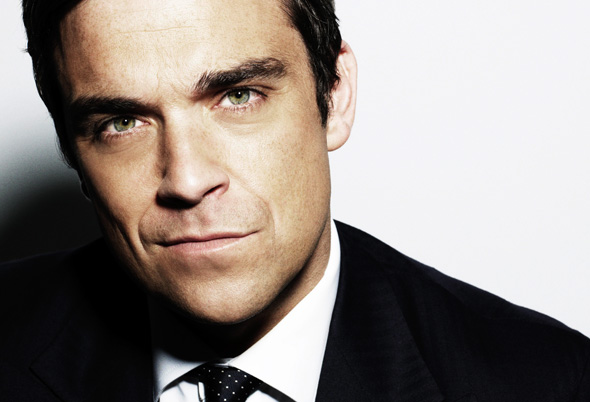 By Les Lea
There's a book, an album and, with the much talked about release of the single Shame, where we see the official end of hostilities between Robbie and fellow Take Thater Gary Barlow, Robert Peter Williams is going to be everywhere.
However, that isn't all… later in the year the four Take That members become five, as Robbie rejoins the band with the release of their new album scheduled for November. Not only will Robbie be singing and writing stuff for said project, the word is he then intends to spend a year on the road with the rest of the band promoting it.
Meanwhile, in his own right, Robbie's Greatest Hits album, In and Out of Consciousness, is just what it says on the cover but also includes the duet with Gary Barlow, Shame… the video for which has already created quite a stir. Many have called it self-indulgent, others a peon to Brokeback Mountain, while more still are just happy to see the two former protagonists getting over their differences and producing a pretty well crafted 'love' song. Robbie has defended the video and admitted he found it hilarious that people thought the promo had homosexual overtones.
He joked: 'Yeah, Gary Barlow is my boyfriend… People are saying that the video is very gay, I cannot understand that.'
Oddly enough… everyone else can.
After all, the wounds that split the band in the first place are no longer there. Both Gary and Robbie have found fame and fortune in their own way and Mark, Jason and Howard have always been seen to be ready for whatever the other two decide. It now looks simply a case of a bunch of mates, who spent their early life together, enjoying one last fling. Having fun and reliving a part of their lives that was interrupted by demons that have since been vanquished. We know that both Robbie and Take That like to put on a spectacle when it comes to a live performance, so we can expect a stage show the like of which has probably never been seen before (not that I want to put pressure on anyone) but we'll want more than a few lasers and fireworks. Both will no doubt continue as successful entities in their own right but this is a public acknowledgement that they have all grown up. A boyband they ain't but perhaps that well used phrase from the 80s might be applied instead. .. the launch of a 'Super Group'!
However, the final words on his Greatest Hits album must come from Robbie himself: "It's incredible to listen to the album and realise that it's already been 20 years of making music and playing gigs. And the great thing about the album is that it's not only a celebration of my past but also a bridge to the future. The fact that part of the future includes a name from my past makes it all the more poignant for me".
Single 'Shame' – Out: 5th October – EMI
Album 'Greatest Hits album, In and Out of Consciousness' – Out: 11th October – EMI