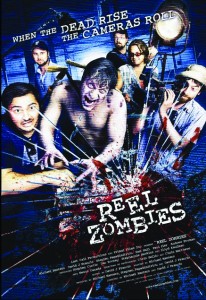 Grimm Up North Film Festival is back for a second year – Bigger, Bloodier and more Brutal than ever.
This Halloween the darkness descends on Manchester, as the UK's premier horror and sci-fi film festival returns. Last year's inaugural festival saw 25 feature films, including 15 premieres – featuring Q&As and seminars with directors, cast and crew. Grimm Up North screened movies from Japan, Finland, Germany, Romania, Canada and Australia with many of the award-winning international films as UK premieres.
Grimm Up North can announce that Reel Zombies, Evil In the Time of Heroes (starring
Billy Zane), Slice and Alien Vs Ninja will all be playing at the festival.
GRIMMFEST: 28th – 31st October
The Dancehouse, 10 Oxford Rd, Manchester, M1 5QA
To avoid fainting, keep repeating 'It's only a festival…It's only a festival…'