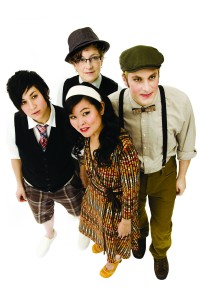 Gender-confusing band Girlyman, the much loved Atlanta-based folk-pop quartet – the long-time trio of Doris Muramatsu, Tylan Greenstein and Nate Borofsky were recently augmented by the addition of old friend drummer JJ Jones – are here in the UK in support of their widely acclaimed fourth studio album Everything's Easy.
Girlyman formed in 2001 in Brooklyn, where the friends shared an apartment; their first rehearsal was scheduled for Tuesday, September 11. It was postponed, but the events of that day helped the trio clarify its vision: "We decided to just have fun," explains Nate, "and not take ourselves too seriously. We started by naming our new band Girlyman." Others, however, took the group quite seriously. The first few years brought critical delight, awards, and long opening runs with the Indigo Girls and Dar Williams. Girlyman quickly became a strong headliner in its own right, and now plays in every corner of the country to intensely loyal "girlyfans" who often travel hundreds of miles to see shows.
Band members Doris Muramatsu and Tylan Greenstein were best friends from school who teamed up with Nate Borofsky in college at a talent show, and since then they've been creating their own unique language of three-part harmony. With a nod in the direction of 60s vocal groups like Simon & Garfunkel and The Mamas and the Papas, and infused with years of classical and jazz training, Girlyman's songs are a dance of melody and suspensions – an irresistible blend of acoustic, Americana, and rock The Village Voice calls "really good, really unexpected, and really different."
They're over here on a short visit so catch them at selected venues while you can!