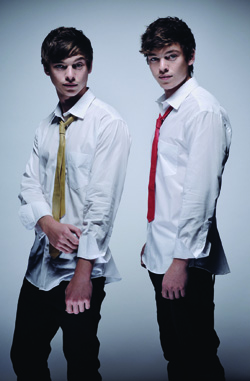 Locnville are 20 year old twin brothers Andrew and Brian Chaplin. Born in New York and raised in South Africa, Their debut single 'Sun in my Pocket" has already swept their native South Africa and the international musical landscape like a gasoline fuelled dance rocket; the name Locnville is on the tip of everybody's tongues from Cape Town & London through to Paris and Los Angeles and they are fast becoming the most talked about electro pop duo on the planet.
Having spent the better part of their lives immersed in the music creation, they recorded their first song 'Amnesia' at the age of 7; by the age of 11 they recorded their first full set of rock songs written by themselves and inspired by rock acts such as AC/DC, Kiss, Staind, Nirvana and Limp Bizkit.
While in their teenage years Andrew and Brian moved back to the US where they became fans of Hip hop, creating connections with the local scene and performing their own music. Back in South Africa they became exposed to electronic music, which was exploding locally. These different experiences and musical influences added up to what Locnville is today.
'Sun in my Pocket' – Out: 22nd August – Epic Records
MySpace: www.myspace.com/locnville