Bent on… Porn – By Alex Wiggan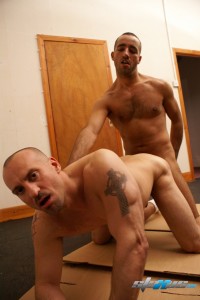 Think you've got it hard? Bet you've never considered how hard it must be for a porn star, have you? Yes whilst you kick back and spend some quality time alone (or in the company of others if preferred), why not consider the pain that a porn star goes through just to bring a bit of pleasure to the world. Those guys are troopers and never during the entire length of their latest DVD release do you ever hear them moan about the fact they've been on their legs all day working up a sweat. How many times have you heard them utter a complaint that they've spent too long bent over a picnic bench, or an ironing board, or three other men? Never! They wouldn't because they're professionals and although at times it may look as if they're lying down on the job, the truth is they're always alert; because a moments lapse in concentration can often come as rude slap in the face. It's not about knowing which angle to be positioned in it's about how best to avoid a rogue bit of man meat. Porn stars are disciplined, trained, focused; they're like a ripped Mr Miyagi (Karate Kid reference there) with legs like an Olympic gymnast and the stamina of Superman on Red Bull. Nothing gets in their way from completing a shoot; not stubble rash, not dry mouth and not even a less than attractive burly member of the production crew doubling as a fluffer. These guys are ready to suffer for their art even if it could lead to a spot of Repetitive Thrust Injury, because they know that in order to put a smile on someone's face it can often mean biting the bullet, or the pillow.
Oh you may think that you've got the whole package when it comes to doing porn, but have you even taken into account all the preparation that's involved? For the porn star it can often mean a tiring day of dressing up to dress down, as one minute they're a student in search of love and the next they're a local baker with a fresh bloomer in need of buttering. However, costumes are the least of a porn stars worries, as what's worse is having to remember the names of half a dozen German lads who they will only meet for 10 minutes in a crowded pool scene; and even then the chances are they won't see their faces again. Then of course there's all that location shooting where one minute they're half way up a mountain, the next they're in a French Chateau and before the day is out they're by the side of the A6 offering a stranded cyclist a go with their bicycle pump. This is all on top of learning numerous suggestive lines that all boil down to the same thing and it's not as if they can pin the script to someone for quick reference. Oh and putting a bit of blusher on a blokes tackle has got to be a little awkward as well and yet they'd never get embarrassed, they'd just clench and get back in there.
The job isn't something they take lightly, because before they even begin they have to come up with the right name to help sell them as a star whilst protecting their true identity. Pick the wrong name like Dusty Sprinkler and it could all be over before it's begun. So their name must be carefully calculated to show they mean business and that they'll be there waiting for you when other boys have let you down! They also need to make sure they fit in with the current trend as turning up for a casting call for Emo Bangers 5 is no good when looking like a bear. Then there's the added problem that if the film is Emo Bangers 5 or perhaps Carry On Emo Abroad, there's all that hair that needs to be straightened and preened for the purposes of continuity. It's a tough industry and with all the free porn available on the internet for a quick digital distraction, it can mean there's less work for the boys. Like the Spice Girls, everyone has their favourite and so these boys have to tick all the boxes. So we need to treasure these heroes, these men who put their backs into it, give it their all and who strive forward in the name of adult entertainment. They aren't just porn stars they're pulse pounding pioneers! They're erotic adventurers dedicated to relieving stress and other men of their clothing! Their days are long, their sex-capades are never over, but come rain, come shine, no matter what, for us they just keep coming… …back for more.
Images: Dirty Boy, Eurocrme.com, Rhodes Rules, Mustang/Falcon