Tel Aviv – By Darrell Hirst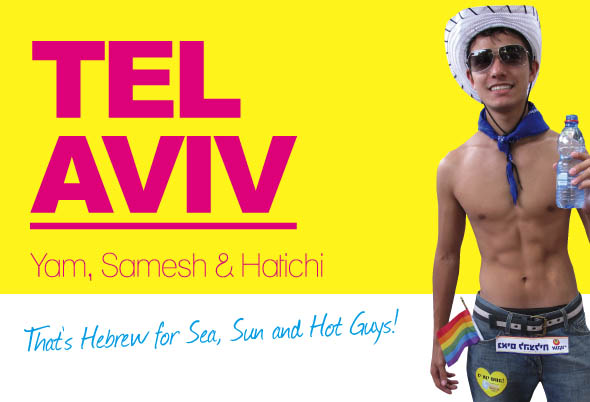 Words and photos by Darrell Hirst
There are many reasons for a trip to Israel; Jews from around the world returning to their homeland to live or visit, tourists enjoying the East Mediterranean climate and of course the many faiths that see pilgrims flocking to historical sites of sacred significance. The profile of Jerusalem, and indeed all aspects of this Biblical destination, often makes people who have never visited this part of the world believe that the country is set in the ancient, mystical past and has very little going for a young, fun, vibrant crowd. How wrong they are.

Tel Aviv is new and modern. It thrives on its young, bustling and upwardly mobile population who make it the financial, cultural and business capital of the country. The city itself grew up out of the old town of Jaffa, which is mentioned in the Bible, and has a history dating back several epochs that would keep any student of archaeology happy , the port also forms the gateway into all facets of the Holy Land.
However enticing all that history may be, Tel Aviv is (if you'll pardon the cross religion reference) an absolute Mecca for gay boys and girls. The city's Pride Weekend goes on for months and it seems that a huge percentage of the population are just a bunch of rainbow flag waving members of the queer fraternity. Even when Gay Pride isn't on, the City That Never Sleeps, as TA is known, has a multitude of bars, clubs and restaurants to cater for our needs. There's even a queer film festival (www.TLVfest.com) that is attracting a great deal of interest. Meanwhile, the gay beach is a welcome haven to all and is filled with young, spunky hunks fresh out of the military or just about to go in to do their 3 years National Service. All the boys are fit, toned and take pleasure in being incredibly friendly; the guys I spoke to wanted everyone to know that they are a peace-loving bunch and it's the old politicians that are holding the country back on that particular front.
In recent surveys Tel Aviv was reckoned to have almost 35% of the city's population who identify as gay. Whether this is true or not doesn't really matter as the place is just so gay friendly. Walking the streets hand-in-hand with your partner is not questioned and you'll rarely find so much as a disapproving shake of the head. The city also has a helpful and knowledgeable gay centre (www.glbt.org.il ) that will happily point you in the right direction, and give you up to date info on the current scene. For bargain hunters there are the usual flea markets and souvenir stalls or there are some of the best brand named boutiques and stores around. The restaurants are a culinary treat where I found new flavours and food combinations taking my taste buds to new heights.
Gay Pride is an event that seems to capture the entire city. Everywhere, bunting, flags and poster are out in celebration as are the public who fill the streets to party and have fun. The beach is a mass of bars, music and dancing, while those who have already partied too hard or just want some peace can find the occasional spare spot on the sand. However, be prepared… Gordon Beach is the area where an excess of sexy bodies, in tiny swimwear, frolic, swim or just take time out to relax… and be admired (those bodies don't just happen)!
Over Pride the famous international gay and lesbian event – Circuit – hit town and that brings in its own partying faithful of half naked men keen to be seen shaking their tight tushes around on the podiums.
With thanks to:
Crowne Plaza Hotel, Tel Aviv, which also has its own gay bar leading to the gay beach
We flew El Al –
Flight only from:£361
–  Departing Friday morning from
London Luton
3 Nights B/B:    £529
– Metropolitan Hotel Tel Aviv
Includes flights: £599
– Park Plaza Tel Aviv.
Bookings can be made through Superstar Holidays
on 0207 121 1500
El AL flies to Tel Aviv [with up to 3 flights daily] from both London Luton and London Heathrow Airport in just over 4 ½ hours.
Tel Aviv is the perfect place if you want to launch yourself into the entire culture and trips to Jerusalem and the Dead Sea are easily organised. The tourist office offers superb advice on the best places for adventure, excitement and history but there is no denying that the Gay Pride celebrations bring in visitors from around the globe. The reputation for this superb event just increases year on year and already the Bent office is planning on its next visit.