Birmingham Pride 2010 – by ChrisGeary.com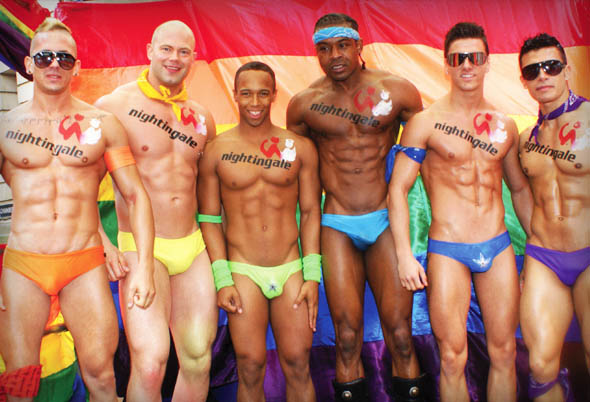 Advertised as the biggest free 2 day gay party in the UK, Birmingham Pride was a great weekend away to catch up with old friends and new. The annual event always takes place over the spring bank holiday weekend, this year was no different.
The carnival parade launched the event at noon in Victoria Square with a speech from the mayor of Birmingham. The colourful parade, which had as this year's theme 'Equality Over The Decades' to recognise the equality the LGBT community have achieved since 1967 when homosexuality was legalized. The message was evident in the parade, which saw hundreds of people making their way through the streets on foot, alongside a large number of superbly decorated floats, winding there way through the city centre, finishing in the gay village where the 2 day festival then kicked off. Unfortunately, the heavens opened with heavy rain just before everyone gathered for the parade, and stayed that way till about half way through the route. Dancing in the rain has never been such fun, with umbrellas up and the music from the floats pumping, everyone was full of smiles and laughter, waving their rainbow flags and feather boa's with pride. Sunday's weather was much better; enough for the boy's tops to come off for some fun in the sun.
The main stage outside Nightingale was the festivals focal point, and was much bigger than last year. Acts sang and entertained the crowds, while the big dance tents allowed the party people to let their hair down. If you fancied a giggle then there was a cabaret/comedy marquee. Mix in some great funfair rides, market and community stalls, a chill-out village green, oh and about 70,000 people; Birmingham Pride had everything for a great weekend of Gay Pride celebrations.
Over 15 gay bars and clubs make up the cities gay village, the biggest club is of course the Nightingale, which had a special PA from boy band Blue's Lee Ryan www.Lee-Ryan.org . He proved to be very popular with the crowds especially in his camp pink top. However on stage he admitted that the press reports about him and fellow Blue singer Duncan James (who this year admitted he was bi-sexual) were untrue. He went on to say that Blue will be getting back together for a reunion tour very soon.
Birmingham Pride info: www.BirminghamPride.com