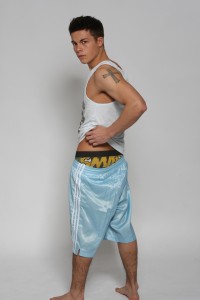 Congratulations to those who spotted our April Fools joke in last month's edition of Bent.
'Vissen', that star of the US Party Circuit, was just a figment of our erotic fiction writer Les Lea's fevered imagination. Sorry to all those who just couldn't wait for this superstar of the decks to make his UK debut.
However, we'd like to thank Barnsley born and bred Kyle Dobson for going along with the subterfuge by allowing us to use his image to compliment the piece.
Twenty-two year old Kyle who went to Barnsley College, is a DJ playing at Bar Loco and Static in his home city and has also found his niche in the world of acting.
Soon to be seen playing the part of a resistance fighter, Jack Anderson in a new TV series called 'Parallels', a futuristic story post a 3rd World War, which commences production in August.
Kyle lists his interests as the stage, TV, film… and admits to being a bit of a gym bunny.
Bent predicts big things for this good-looking, fun-loving Yorkshire talent
Photo: Mark Hawkins