Travel – Pick-of-the-cropolis!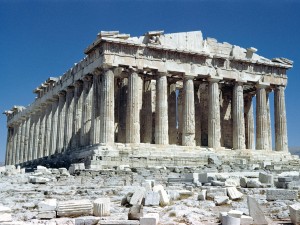 Yee Gods! Adrian Gillan visits Athens, the birthplace of homosexuality!
Outside Egypt and the Middle East, perhaps no other city can lay so great a claim to being the cradle of "Western Civilisation" as Athens, whose 5th Century BC "Golden Age" (philosophers like Plato and Aristotle; dramatists like Sophocles, Euripides and Aristophanes etc) sowed the seeds later nurtured and morphed by the Romans and all major Biblio-Judaic offshoots.
Athens' intrinsic cultural richness has, ironically, stood the test of time, surviving its myriad then-seeming all-conquering invaders – from Romans and Byzantines, through Ottomans and Venetians, to the establishment of a modern independent Greek nation, which itself has witnessed German invasion, then liberation, followed by civil war, a junta and eventual evolution – well-nigh full circle – into a democracy the Ancients would well half-recognise, along with the 2004 Olympic Games!
EU membership and the thankfully waning sway of a repressive, chauvinist and ultra-conservative Greek Orthodox Church – that was frankly making the Ancient Greek Heroes groan and spin in their graves – have led to a recent renaissance in the Greek arts, and the resurgence of more gay activity than these wise old hills can have probably witnessed since, oh, around 500BC.
Greater Athens is now home to around 4 million, a third of Greece's entire population.
TO STAY
Titania Hotel (52 Panepistimiou Ave, Athens; T: +30-210-3326000;) – A 4-star hotel in the centre of Athens, between Syntagma & Omonia, the city's two major squares. The impressive lobby area is decorated with famous "Pentelikon" marble and exquisite inlaid mosaics.
TO SEE & DO
The Acropolis – Climb the hill, breach the Propylaia entrance complex, circle the iconic Parthenon and admire the Erechtheion side-temple with its famous "female" Porch of the Caryatids! Don't forget the two theatres spilling down the world-renowned hillside: the Theatre of Dionysus, site of premieres by the Ancient Greek tragedians and comedians; and the Roman Odeion of Herodes Atticus – both venues once linked by a stoa (colonnade).
Greek & Roman Agoras – Just north of the Acropolis and down the slope, lie the social and civic hubs of the Greeks (notably the miraculously preserved Hephaisteion temple; and Attalos Stoa colonnade); and, tad east, of the Romans (notably the Tower of the Winds & Hadrian's Library)!
New Acropolis Museum – Just south of the Acropolis, housing many of its treasures! Spanking new, they've even left a space for the Parthenon's famous missing "marbles", pillaged by our own Lord Elgin – should the British Museum ever surrender 'em!
Panathenaïkó Stadium – South east of the Acropolis, renovated site of first the Ancient Greek and then the 1896 modern Olympic Games!
Syntagma Square & surrounds – Parliament, Memorial of the Unknown Soldier, Hotel Grand Bretagne, National Gardens, Temple of Zeus and Hadrian's Gate!
Exárhia district – Student-thronging and brimming with trendy eateries plus colourful graffiti, north east of the Acropolis.
Pláka district – Boutique and café-brimming old street warren in the very shadow of the Acropolis.
National Archaeological Museum – Due north of the Acropolis, lies one of the world's great museums – featuring the haunting gold Mask of Agamemnon and breathtaking bronze statue of the Boy Jockey; and even more buff male torsos (surely, Greece's biggest export, after Feta?) than your average gay bar: no coincidence, if you consider the undoubted aesthetic influence!
TO BOOZE 'N CRUISE
Dozens of venues throng Athens' gay scene, clustered mainly in Gázi and Keramikos, north west of the Acropolis. Caution: Disco nap 7pm; dine 10pm, hit bars 1am, hit clubs 3am!
CAFÉS & BARS
Blue Train (Konstantinoupoleos 84, Gazi) – Pleasant chill-out bar, open every eve after 7.30pm.
Mayo (Persefonis 33, Gazi) – Closed on Mon & Tues.
Fc.uk (Keleou 3, Gazi) – Sex bar with dark room, cabins, slings and things.
CLUBS
Fou (Keleou 8 & Iera Odos, Gazi) – Buzzing club, popular with the young.
Moe (Keleou 1-5 & Iera Odos, Gazi) – Busy, friendly, mainly playing Greek hits.
S-Cape into Army Academy (Megalou Alexandrou 139, Gazi) – Athens biggest gay club, with lounge and dance areas.
SAUNAS
Alexander Sauna (Megalou Alexandrou 134, Gazi;)
OTHER USEFUL CONTACTS
Aegean Airlines offers twice daily flights from London Heathrow to Athens from just £157 return, inclusive all taxes – and beyond to 16 Greek destinations.