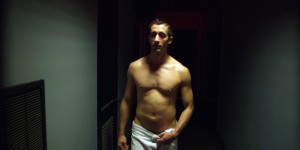 It has been described as a French film that just happens to have been made in the English language. The style, the script and of course the actors have all bestowed upon this gay movie a classy feel with a 'refreshing' approach to sex. Bent caught up with the movie's leading man Eric Debets to get his take on Hollywood.
My character is a guy who wants to change his life as many men do at some point in their lives. He's a gay man who wants to feel free and without limits but when he gets that life he's actually disillusioned by it all. He really finds out what he wants from life and more about himself over the course of the film.
How did you get involved with it?
I've known the director, Jason Bushman, for many years. Three years ago he asked me to be in one of his short films and I just thought "why not"? The role gave me a real passion for acting so I soon went to drama school and in 2008 he came to me with an idea for a feature film about a man who tries to make it in Hollywood and he thought I would be perfect for the role!
Is there any difference in attitude between French and American movie makers?
This is a tricky one to answer! Let's just say that it definitely depends on the directors!
Is Hollywood the dream factory you thought it would be?
At the start I was also asking the question about the 'Hollywood dream' but not so much after making the film! The Hollywood dream is still alive but these days I don't need Hollywood to dream.
Playing an out gay man in the movies… do you have any of your own 'casting couch' experiences?
I'm afraid to say no! None at all!
You are being compared to the brilliant comic actor Jacques Tati, is that pressure you could do without?
That's a real honour for me! He's such a talented and popular actor and filmmaker and it's a very complimentary comparison. I certainly don't see it as an added pressure, I just try to look at it as a positive for the future and something to aspire to.
What type of movie do you like to watch… and what part/character would you do 'anything' to play?
I like to see movies with really strong drama but comedies are also good to lighten things up! But something like Gus Van Sant's My Own Private Idaho is a favourite. I would like to star in these genres and I don't mind playing a strange character – the crazier the better!
What new projects are on the horizon?
I do have a few in the pipeline but it's a little to early to talk about them but I promise you'll be the first to know!