Bent Fiction – Getting down to business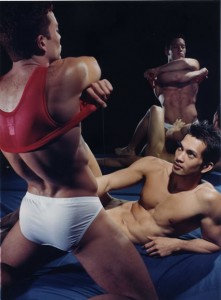 By Les Lea
To say I was nervous would be an understatement… a huge understatement.
I had seen his advert in the back pages of a gay free sheet a couple of months earlier and it had taken me all that time to pluck up the courage to call his number. The advert simply said "Massage Given – Men Only – reasonable rates – call" and a mobile number and that was it. I knew what he was offering and in all truth I was getting desperate. In the village where I lived there was no gay life that I knew of, although there were rumours about two farmers who worked the high fields, but to me it all seemed like gossip. Not that I hadn't had the odd night-time fumble when I thought about one of those guys. He was ruddy featured, about 30, stocky and just oozed manliness. The summer before I'd seen him driving a tractor in a pair of cut-offs and he'd had an immediate effect on my libido. I suppose it was partly due to him that I was desperate to try something myself. Whether he was gay or not, I knew I was and desperately needed to have contact with another guy. That phone number provided the opportunity I needed, even if it did take a while for me to pluck up the courage to ring it.
I was sweating profusely as I dialled and nearly lost my nerve when a soft, slightly accented voice said "Hello, Timo speaking, how can I help you?" I stammered an apology in case I'd got the wrong number but asked if he had placed an advert in the paper. His voice became more animated, "Yes, yes, it's so good of you to call." I was taken aback. I don't know why as I had no idea what to expect but he was obviously used to people getting tongue-tied and awkward when they called. "The massage? Yes? That is no problem. We can arrange a time now if you like." He waited for my response but I was still too timid to offer much in response other than a murmured "Mmm" in agreement. Again he took the lead, "If you want to call back when you want to arrange something please do… I shall look forward to it." Suddenly realising he might put the phone down, and me not being too sure I could get up the courage to call again offered, "Friday… erm… Friday evening?" He asked me to hold on a moment while he checked. I assume he was looking in a diary or something, "Yes that looks terrific. Would you like me to come to you… or would you like to visit me?" He told me where he lived and the price and, on Friday, 10 minutes early, I nervously rang his door bell. A young Thai looking man answered the door. He was slim and had a gorgeous smile on his face. He slightly bowed and invited me into a warm living room with yellow and orange furniture and fixtures. The low lighting making the place look both welcoming and oriental and I think I breathed for the first time since I'd arrived at his door. I got myself comfortable on the offered bed that appeared to be the centrepiece of the room and we chatted a short while. I told him how nervous I was and he smiled and offered reassurance to me. He explained what he did but told me not to worry, he wasn't in any rush and I should relax and enjoy the experience. He stripped me naked and I lay there desperately trying to relax and lose the hard dick that was now digging urgently into the comfortable blanket covered mattress. I watched transfixed as he stripped off down to a tiny pair of white underpants. His ultra-slim hips emphasised a package that looked both cute and impressive on his trim frame and my thoughts went to what it would be like to feel him… He started gently smoothing oil in to my back and his soothing hands and gentle manipulation of my muscle groups made me feel terrific. After a while he asked me to turn over but I felt embarrassed because I was sporting such a stiffy. He told me not to worry. So I scooted over and presented what I had to his gaze and fabulously oily fingers. He teased the rest of my body first before eventually taking my solid throbbing dick in his hands for a slow, gentle but highly sexual wank. My relief was embarrassingly quick.
It was almost instant. That soft, feather-light touch had me shooting my biggest load ever and right into the lovely Timo's face. I tried to apologise but he smiled and said that I had obviously needed it. He carried on massaging my legs, arms and chest and after a very thorough massage of the rest of my body returned to my semi-hard cock once again. He slipped out of his little briefs and told me he was going to give me a total body-on-body massage. He oiled up his own torso and lay on top of me. He squirmed and wriggled against me and it didn't take long before our two cocks were rubbing up against each other. Christ, this was both intense, erotic and more than what I could have dreamed of. He seemed to sense when I was near to orgasm so he would pull away and concentrate on another part of my physique leaving my cock to throb against my abdomen. Eventually, when he'd got my cock to the hardest I think it had ever been, he wiped off the oil, slipped a condom over it and straddled my hips. No sooner was I inside his tight little bum hole than I came. I hadn't wanted to. I had wanted this first time with somebody to be a slow process, but my inexperience showed as I moaned and let loose at the same time. I hadn't expected the occasion to be so damn sexual but Timo had been a great teacher and moved my sexual experience into another dimension. I was scared and nervous but now I'm aware, happy and in desperate need to experience more. It may have just been a matter of getting down to business for him…. but it was a life-changing experience for me. I did more in the couple of hours with him than I'd ever done in my life before and now… I want more.