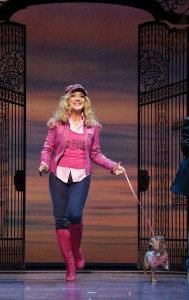 Something very pink and glittery has come from Broadway to London's West End in the form of 'Legally Blonde – The Musical'. Now if you haven't seen Legally Blonde get the DVD pronto and maybe check you are gay, as it's one of the most brilliant and funny films… dah! So with a film that was such a big success and has such a following would Legally Blonde stand on its own two high-heeled feet? The answer is a resounding glittery yes.
If you don't know the story (and shame on you) this is the tale of pretty in pink Elle Woods (Sheridan Smith) a high school favourite and member of Delta Nu. A girl all about glamour and small dogs (think Paris Hilton but super nice) who is dumped by her boyfriend Warner Huntington III (super sexy saucepot Duncan James) for not being 'serious' enough. So in order to get her love back she decides to get a degree in law… at Harvard with her Chihuahua 'Bruiser' too of course!!!
From the first lines of opening number 'Omigod You Guys' we were hooked by the hysterical lyrics and the pop beats, we don't know how anyone couldn't be immediately into it. Never before have we laughed so much, mainly at one of the songs built around the lyrics 'Is he gay or European', which has to be seen to be believed. The song ends in a gay kiss between a pair of hotties who have just been dancing wildly, that alone could make this our favourite musical EVERRR! Sheridan Smith is utterly wonderful as Elle Woods and no gay man could help but fall for her charms and her comic timing is just perfection… vocals and acting are just a sheer joy. A special mention also for Jill Halfpenny who can sing with the rest of them, which we weren't expecting, she is also hilarious as Paulette and makes the famous 'bend and snap' her very own.
If you want some escapism into a pink and fabulous world of high drama, high energy and high camp as well as leaving you on a giggly high… what are you waiting for, book your tickets now. We are so like totally going back again!
Legally Blonde – The Musical is on at London's Savoy Theatre in the West End, www.legallyblondethemusical.co.uk
Photos: Ellie Kurttz