On Your Marks… Get Set… Date!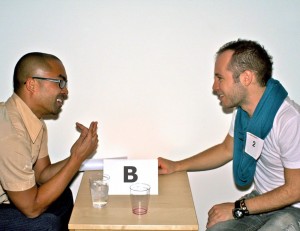 We keep being told that we live in an instant society. We want things when we want them… and we want them now. Oddly enough, Speed Dating has been around for a few years now but has never really taken off to any great extent on the gay scene. However, in the last year or so it has picked up and seems an ideal way for busy people to meet other busy people. We sent one of the Bent team undercover to go and try his hand at speed dating with Pink Date…
It has to be admitted that before I went speed dating I had some misgivings about the whole idea. I imagined a room filled with men over 50, yes that's right I completely stereotyped the whole process. So, when I arrived I was shocked to see that it looked like a room full of men who had simply graduated from G.A.Y. The room was filled with a mixture of men between 25 – 45, all shapes and sizes but all surprisingly good looking (yes shallow stereotyping again) and normal.
Once you have paid your £20 registration fee the nerves kick in, which become apparent as you all cluster at the bar (drinks not included) waiting for the whole process to start. I have to add here that the Pink Date staff were wonderful and really make everyone feel as comfortable and as welcome as possible under the circumstances and they also get you in the right spirit of fun and friendliness. Before long it's down to the main event and you are split into two groups; one set becoming the sitters in their own booth, the others travelling from booth to booth. You get just three minutes to make an impression before the buzzer goes and you move on to the next booth.
You might not think that three minutes is enough for each person, you would be wrong. Apparently, within a minute you can make up your mind and I was surprised just how much information you can give and receive in that short time. Also, with over twenty guys it is actually just long enough as you end up meeting a lot of people. I met some media people, accountants, doctors – a real mix and then it was time for a refreshment break before I knew it. People did seem much more relaxed after the first round and so, when the sitters and the travellers swap roles, the chat was a little more fluid. I was knackered by the end though but of course I stayed for a few refreshments afterwards. After all, it doesn't have to stop on the night…
The next day it's time to log on to the profile you have already set up on Pink Date to find out how many matches you had. Is it bragging to saying I didn't do too badly? Will I be meeting any of the other? I have swapped a few emails and will take it from there but I will report back in due course. I would say if you have been intimidated by the thought of speed dating because of what you imagine it to be, don't… just give it a go and see yourself.
Our undercover explorer was at Pink Dates London meeting at The Shadow Lounge, it also runs events in Brighton and Manchester to find out more you can go to the Pink Date website (which should have just had its make over, if not its coming)