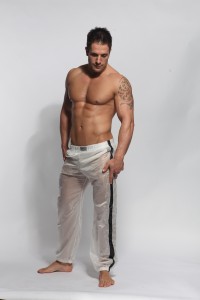 By Les Lea
I thought it was the worst Christmas present ever. My mate had enrolled me at my local gym and the idea was that we would go training together. I'd only said that I was interested in joining because, well, he was cute but in truth, I had no real intention of exercising at all. That was until I got this rather expensive gift for Christmas. Hell, all I got him was a subscription to a magazine and a bottle of his favourite smelly stuff… I thought he knew I was being ironic when I said that 'nothing would please me more than membership to the Fitness and Wellbeing Club'.
On the first two occasions I'd gone along with my mate but absolutely hated it. All that posing and sweating… I could barely manage the posing… I smiled through the ordeal but promised myself that I would have an airtight excuse the next time he asked me to go. Then, yesterday morning it happened: I looked in the mirror and there was this chubby guy looking back and I didn't clock at first that it was me. God, I had let myself go and my friend had just been too polite to suggest that I could do with getting myself into shape. So, without him being there, I decided I'd go along to the gym on my own and see if I could summon up enough enthusiasm to get into a routine. This was an early morning visit before work when I thought few people would be there to see my pathetic attempts at exercise but… I was completely bowled over by this… well… how can I put it? Something happened to me that affected my mind and body like nothing else ever has. I suppose you could call it an awakening… to the real pleasures of the gym.
You know, that moment when someone catches your eye and all your thoughts are directed towards that person. Ideas creep into your head about what you'd like to do to him and what you hope he'd do to you and that's all you can think about. Last Monday was that day. I was in the locker room changing into my kit and had just pulled on my shorts when the sexy image of a hot hunk changing in the corner caught my eye and sent my mind racing towards all kinds of possibilities. It was his trackie bottoms that did it; tight, very shiny, almost plastic-looking that wrapped around his arse muscles and superbly packed crotch, making it look like he was especially fitted into them. Hell, I thought, this is one very sexy young guy and I couldn't take my eyes off of him. He pulled off his sweaty T-shirt and threw it onto the bench and reached for a towel hidden in his locker. His taut muscles looked fantastic and as he stood on his tiptoes a little to get a better reach, his pants slicked to his body like cling-film. I could have made a mess in my shorts there and then but he seemed totally unaware of my existence… or so I thought.
He saw me in mid-ogle and smiled mischievously at my discomfort. His face lit up as he nodded an acknowledgement and looked down at my stiffness pushing out the fabric of my flimsy shorts. His tight trackie bottoms had pulled tightly around his crotch and displayed a very welcoming and sturdy piece of youthful meat. He stood for a moment aware of the affect he was having on me and then seemed to make a decision. He pulled down his trackie bottoms to reveal a matching pair of tight plastic briefs. Jesus, this guy was just sex on legs and knew how to show it all off. He nodded toward the showers and waited for my response. Ohh jeez, I knew I would probably regret it, imagining a bitter put down, or at least a cryptic comment but that strange feeling was still vibrating through my body and I just had to act on the impulse. I followed him into one of the shower stalls and, as I got onto my knees in adoration, he turned on the warm, comforting water. As it cascaded over us I pulled down the front of what were now see-through briefs and feasted on the sight of his rigid cock. He tenderly stroked my wet hair and gently guided my lips towards tits target. I couldn't believe what was happening, and although still expecting an instant rejection, I quickly opened my mouth and was sucking, licking and encouraging his thick, veiny dick to do some cascading of its own. His tight chest muscles looked like a sculptor had been carving away at a piece of shiny marble to create an object of total excellence. I forgot about my own body image, while I concentrated on the task in mouth. Everything about him was superb but I was buzzing in appreciation that I was allowed to be so close, to have sex with this specimen of chiselled youth. His eyes were closed as I drew him closer and, as he let loose his load, my entire mouth was treated to a sudden salty rush that I swallowed with more enjoyment than I would have thought possible. Once his orgasm had evaporated he looked down, pulled me to my feet and kissed me gently on the lips. I wasn't sure if it was a kiss goodbye or a kiss of thanks but I knew my time was up. I wondered out of that shower still electrified as to what had happened and with the sure knowledge that I would be coming to the gym on a more regular basis.
Track suit and briefs courtesy www.markus-brighton.com
Photos: Terrygeorge.co.uk