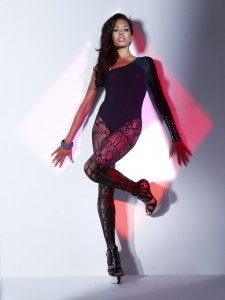 Jade Ewen stole our hearts when she graced the screens in 'Your Country Needs You', the BBC's search to find the UK's representative for the Eurovision Song Contest. She won the competition and was awarded the chance to sing the Andrew Lloyd Webber penned song It's My Time in Moscow. Her powerful performance gave the UK its highest position in the ESC in years. Simon Savidge caught up with Jade to discuss her gay fan base, who she should be dating and why she has gone from balls out ballad to balls out R&B with a touch of pop Minx…
How is everything going at the moment, it must be a bit crazy?
Yes it is but all in a good way and its all fun. I got to sing the national anthem recently at the Man United vs.Chelsea game, which was surreal. It was also a bit scary as there were 90,000 people, lots of lovely footballers though to keep my nerves at bay (laughs).
Does it feel like 2009 is the year for Jade Ewen?
(All excited) I think so… I think that it just might be. I remember at New Year I said 'OK this year has to be my year… I have to do this, this and this'. I had a real moment where I was really setting out all the things that I wanted to achieve and so far so good. I don't like to think everything is going too well though that can make bad things happen. So. touch wood.
Did you have any doubts with doing Eurovision as it can either go 'the Abba way' or 'the Jemini way'?
(Laughs for about two minutes) That is absolutely hilarious! I hope I don't go the Jemini way, wasn't that awful. (Starts laughing again) Sorry, that's really tickled me. I was slightly nervous as obviously if it goes wrong that's my career over before it's begun and you know, I am in my early twenties and to have your dream career killed that young would be dreadful. I think with having Andrew (Lloyd Webber) on side I knew he would have more to loose than any contestant… so, I hoped it would be a success and I think we did Britain proud. I have to say am so pleased I did it. I performed to 122 million people that night and you won't get exposure like that anywhere. It's a good thing it all went well really.  I wouldn't have got a four album deal if I hadn't done that show.
Now Jade, with a show like 'Your Country Needs You' all the gays are going to be watching… how did you get them on side so quickly?
(Laughs) I don't know. I had a lot of support from the gay audience. Apparently it was the fabulous glitter outfit I wore on the first week when I sang Beyonce. I was thrilled that the gay audience was with me. You can't have a Eurovision without a gay audience can you? That would be crazy, so to have them on side for me was a huge thing. I would also put it down to leotards and strutting around the stage really… I have a campness too I think… well a musical showbizness (laughs). Whatever it was I am really happy as I personally always prefer performing to a gay audience, I know everyone probably says this, but it's all so much more enthusiastic… there's loads more energy. There is nothing worse than performing to an audience who just stand there doing nothing and looking at you as if to say 'next' (laughs).
Has that happened to you?
Oh it happened like two weeks ago, I was in err, what's it called, Huddersfield and it was a daytime outdoor gig. I was halfway through the first song and suddenly noticed Preston (Former Ordinary Boy and now solo artist) was at the side of the stage ready to come on after me and everyone was just looking at him.
Did you not want to kick off?
I don't kick off very often but it has been known. I did sort of want to stamp my foot and scream 'It's My Time' (laughs) but I don't think they would have got the joke and would have probably thought I was a right grumpy cow. It does make the great gigs worth while though, so you need some dud ones to appreciate it.
Now you're new single 'My Man' I have to admit shocked me, it's not a ballad but a big pumping track.
I think everyone was expecting a follow up ballad from me and we kind of did this on purpose. There are ballads on the album so ballad fans please don't worry (laughs). I did love doing all the upbeat songs on 'Your Country Needs You' and so I thought 'right let's go for something different'. You all saw me doing a ballad for Eurovision and I wanted to do something completely different for the album.
Now Miss Ewen… the video… it's a bit saucy isn't it?
(Laughs) You crack me up. I guess it is a bit of a saucy video. When I filmed it it didn't feel that saucy but then again I was freezing in hot pants in a garden for some of it. I guess you could say it's been quite nicely edited so that it does look quite provocative. I enjoyed doing it though; especially performing in front of the guy… he was really gorgeous wasn't he?
So will you be getting some hot saucy dancers for your shows?
I am hoping to, what girl wouldn't. I definitely feel the need for some at the G.A.Y gig, which I am really excited about. I really want to put a show on for that in September, I am working on it. I will have some girls though too as you know we need to keep all audiences happy don't we.
What can we expect from the album?
Oooh, well I am very excited it's been a true labour of love. You can expect quite a few more up-tempo songs and a few dancey club based tracks as we all like dancing all night and I wanted those on the album. I wanted the sort of songs where you go 'oh my god I love this song' and don't leave the dancefloor. There are some mega ballads but not quite as theatrical as you might think. Diane Warren has written some songs for it, which is just amazing.
Now before it's even come out everyone is praising the albums title track Punching Out.
Yeah, everyone loves that song, which is probably the next single, again it's not a ballad but then it's not a dance track. It's mid tempo but with a beat… if that's makes sense? The lyrics are quite feisty. It's all about not being a man's mother and maid, and if basically, if that's what he wants… he can piss off. (Laughs) Though that isn't actually a lyric… that might be a bit rude.
So is being famous all it's cracked up to be, have you heard any wicked rumours about yourself?
I don't think of myself as famous really. I don't think you can until you have a long career with lots of hits. I am still very much Jade who has happened to have quite an amazing year. As for gossip… the only thing I have heard is I am meant to be dating one of JLS, which was news to me. I think I need some more gossip really.
As lovely as the JLS boys are Jade I would go for hip hop royalty … Kanye West would be my rapper of choice.,.
(Laughs) Hmmm I will bare that one in mind if I meet him. He could guest on my second album and everything. I might have to take your advice, and he is quite hot isn't he?
Jade's second sizzling single 'My Man' is out on 14th September… the album 'Punching Out' will follow in early 2010. You can find out more about Jade and when she will be at G.A.Y at  www.myspace.com/jadeewenofficial