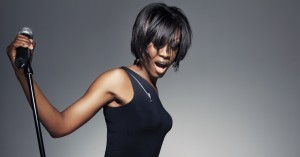 Beverley Knight is the UK's undisputed Queen of Soul. She writes, produces, acts and sings and with over ten years in the music business, shrugs off the accolades and remains our very own down-to-earth diva. We sent Simon Savidge to meet Bev and find out all about the new sound, the make up range, the possibility of her own gay club night and why she is so addicted to twitter?
So Beverley… erm… Beverley?
(Puts down mobile shamefully) Oh, I am sorry I am a bit addicted to Twitter. Did you know I actually got banned for a day… I had gone over my limit (laughs). Right I am putting it away now promise… how are you love?
I am great thanks how about you?
Fabulous, really fabulous. I am all excited about everything at the moment but at the same time there is that nervous excitement too.
Do you still get nervous when you release a new album, this is album your sixth it must be old hat?
Oh goodness me no. I get nervous about things still, I would be more worried if I didn't. I think when you stop getting nervous then something has changed. I actually think I am the most nervous this time as I am releasing on my own label. This is the album I think, out of all of them, that I have had the most control over, so I feel like it's even more down to me than normal (laughs). I have worked so hard on this album.
Tell us about the new single 'Beautiful Night' which is stunning?
Thank you love, that's very kind. I love the new single, it's a little bit electro but very much about the vocals and 'the voice'. Oh, I shouldn't say that people will think I have got all Mariah Carey and holier than thou. She's a great voice… but… you know… (changing the subject). Anyway, the single was with Amanda Ghost and I think she writes amazing songs… so for me it was a complete pleasure.
What can we expect from the new album?
It's a real mix in all honesty and that's something that I really aimed for. I've worked with Guy Chambers again, Jimmy Jam and Terry Lewis who works with Janet. After the last album, which was so stripped and raw, I wanted to do something with added funk again. 'Breakout' is a stomper, I can see the video -me and fabulous people dancing in a club 'The House of Knight'… oh I am already there (laughs). I think this is definitely Beverley "right now"… (laughs) 100%. Oh and how could I put this last (she says reprimanding herself) I got to sing with bloody Chaka Khan. I mean, I grew up loving that woman and then I am singing with her.
Did she give you any diva tips?
No, she didn't actually, but then she isn't a diva. Well, she's a legend but not a demanding diva and I would tell you if she was, though it would have ruined all my illusions. The thing she did teach me is – if you aren't getting it in the first twenty seconds or so don't bother and that's something I will take with me.
Now you are known as the Queen of British Soul, and even got an MBE from the Queen… have you become a diva?
(Laughs) What, Bev from Wolverhampton? I like the term 'down to earth diva' I do still get people coming up 'hiya Bev how ya doing' I think when you're northern it helps, mind you am biased aren't I? Oh no, my southern fans will think I m being funny (laughs) they'll know I am just being true to my roots.
Now you're releasing a line of make up are we going to be seeing you going all J Lo with a line of perfumes and the like?
Oh no, no going J Lo for me. You won't be getting any L'Eau de Bev (laughs hysterically) can you imagine? I just knew the make up was something I couldn't get hold of and so thought – well if I can't lots of other people must struggle and so I wanted to do something about it. Its good to branch out and do other things isn't it?
You do have a lot of gay fans…
I was talking about this the other day and I can always see my gay fans at my gigs, they are always up and dancing shaking what they've got… I love it. I really want to do more gay gigs this year they are one of my favourites. The gay boys and girls better be out on my tour this year or else. I need to do G.A.Y now it's moved… I am gutted the Astoria is gone, that was a little bit of history.
Maybe you could start your own 'The House of Knight Night'?
Oh my god that would be absolutely amazing. Oh my god (enthusiastically) we should do it. Oh, that would be Heaven; I don't think I would be able to contain myself. I won't be doing perfumes, well never say never, but maybe I could do that next. Oh, it would be fabulous.
Why do you think the gay guys love you so much?
Gay guys love a voice don't they? That's on of the things I think gay guys really appreciate. They like a woman who will dress up and be camp and glam and that's another thing. I mean, I am not like your Madonna, Kylie or your Posh… I Chryl, Kylie, Dannii,  gay, guys, fans,song, I think they are more untouchable in a way. I think people know I love the gay scene and the people and I get involved with a lot of gay charities. That's one thing I think Dannii has over Kylie in a way… she gets a hard rap, which I think is wrong. Like on the X Factor… though I love Cheryl.
Would you do a celebrity show like Big Brother?
No, no, no. It's just not me. My friends, fans and stuff reckon that I should do 'Strictly Come Dancing' and that would possibly be the only one I would consider. There is just the small matter of the fact that I can't dance… at all. But we can't have everything can we?
'Beautiful Night' is out now and is taken from Beverley's new album '100%' out on 7th September with the tour following in the autumn. For more on Beverley, the tour and everything you could wish to know visit www.beverleyknight.com