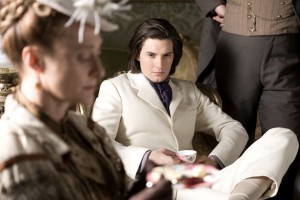 Studying English Literature and Drama at Kingston University, Ben Barnes debuted on the big screen in Matthew Vaughn's epic fairy tale Stardust, in 2007. As well as appearing in the  National Theatre's West End production of The History Boys, he broke through internationally with his portrayal of the title character in Prince Caspian, the second instalment in The Chronicles of Narnia series. He has just started work on the third Narnia film, and is back on screens this month starring as the eponymous lead in Oscar Wilde's Dorian Gray.
You studied English as part of your degree. Had you ever studied The Picture of Dorian Gray?
Definitely read it at school. I am not sure whether I did it as part of my English degree. I did focus on that period but I don't think we did Dorian Gray. I remember when we were shooting Easy Virtue and Barnaby [Thompson, the producer] came up to me about two weeks before the end and said he had a present for me with this glint in his eye. I said 'Thanks' opened it and it was The Picture of Dorian Gray. He said, 'You should read it' and I said, 'I have read it'. He asked me what I thought of it and I said that it was a great story. He said that he was thinking of making a film of it and I said, 'Great! Why are you giving it to me?' And then a couple of auditions with the director later and we were doing it.
The character of Dorian Gray is supposed to be a vision of beauty. Is being asked to play someone so fiendishly handsome flattering or embarrassing?
That is a bit of a cringe. It wasn't cringey to be asked to play it, but it is cringey to try and answer this question, because part of me still feels really young, and just the skinniest boy in the class, as I always was. Obviously, Oscar Wilde uses these outrageous superlatives in describing the way Dorian looks in the book but, for me, it was always about the power of youth, the power of celebrity and youth within London society, which is such a powerful thing. The fact that his looks didn't fade, that was the important thing, not the fact that he was so overtly beautiful. I think the real nub of it, though, was the fact that he didn't change at all, which I think is terrifying. Imagine not seeing someone for 30 years and then seeing them and they look exactly the same as they did when you last saw them! That was absolutely terrifying, so it was always more about that than thinking, 'Oh, I am playing a really handsome bloke'.
Unlike the novel, you find some sympathy for Dorian in the movie…
I hope we do, because in the book you don't particularly. The book is called The Picture of Dorian Gray and it really is about the picture and the world that swirls around it and the society and the things that happen to Dorian more than the decisions he makes. Oliver [Parker, the director] wanted to get inside his head a little bit more. I really hope people like the film; nearly everybody I meet says that it's their favourite book and that I had better not made a complete hash of it!
You're making a habit of filming people's favourite books…
I know. I have gone straight from Alan Bennett to C.S. Lewis to Noel Coward to Oscar Wilde. I seem to be doing them all. Next I'll be totally butchering Hamlet, which, actually, I nearly had a stab at a few years ago. There was a film called Ophelia, which I was cast as Hamlet in but it wasn't Shakespearean language. It was based on another book but it never came to fruition. Lots of the choices I make, even the roles I don't get, are based on books. It's funny, a lot of people say that your degree ends up useless but I find it very useful when reading scripts and trying to unload what is complete rubbish and what isn't!
You're heading off to Australia to begin work on the third Chronicles of Narnia picture. How do you feel before a big project like that, excited, nervous?
A bit of both. I know that I have a couple of weeks fight training when I get there, which will feel like a welcome break and which I need. If I were going to start filming in a couple of days, I would feel a lot more anxious.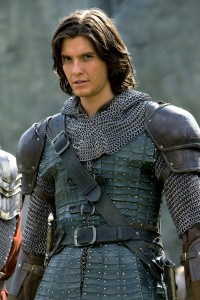 I take it you dreamed of playing knights and kings when you were young, running around with swords and so forth?
Yes. But to play someone who never ages is also pretty cool, not when you are eight or 14 but certainly when you first start thinking of acting, going into work pretending to be 21 but playing 46 or whatever, that's kind of exciting as well. But you are right. I am looking forward to all the action in Narnia.
You're building quite a body of work — do people now stop and recognise you in the street?
People just don't recognize me, actually. Maybe it's because I have my hair back or have a beard or whatever, or maybe because I am not that popular! People recognize people that they see regularly, like actors they see on the television every week. In most part people probably have only seen me in one or two films, even although I'm going into my seventh now.
But there must be more recognition recently?
Most people who are aware of me have seen me only in one thing a couple of years ago so actually I'm really not recognized that much at the moment. If I am at an airport, a theatre, a premiere, then the alertness is higher. So it's more on those occasions that I'm recognised, but generally I don't get papped coming out of nightclubs in the middle of the night. I am not on people's minds or on the pages of their magazines enough to be recognized, for which I am very, very grateful. I don't envy anybody who has that lifestyle.
Dorian Gray is in cinemas from: 9th September