Framed – Julian Clary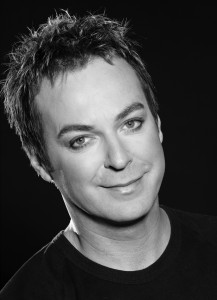 Born in Clacton on Sea to parents Peter Clary, a policeman, and Brenda Clary, a probation officer Julian has become one of England's most controversial as well as most loved comedians.
He studied at Goldsmiths College in London where he, and his best friend Linda, had a series of cabaret shows dressed as two cleaning ladies called 'Glad & May', which of course had an injection of dry slightly racy wit.
He has a dog called 'Fanny the Wonder Dog'… genius. This is also slightly ironic as his first role was in a play called "I Was a Teenage Sausage Dog".
Clary's most controversial moment was live on pre-watershed national TV at an awards ceremony. As the stage had been dressed to look like Hampstead Heath, he took the camp angle and announced that he had in fact been out the back "fisting Norman Lamont". This caused absolute hilarity at the show but uproar in the press. It resulted in a long gap before Clary was allowed back on live television here in the UK.
The queen of double entendre – his tours have had such delightful titles as:  The Mincing Machine, My Glittering passage, while his next tour, starting this year, is called, Lord of the Mince.
His first ever live show was as the wonderful, rubber-clad, camp superstar, The Joan Collins Fan Club'.
He has been a pop star, even if it was in a fake band called Thinkman that didn't actually last.
Clary has now become an author. His wonderful autobiography 'A Young Man's Passage' followed by the tale of a serial killer in 'Murder Most Fab'. His latest 'The Devil in Disguise' apparently has a delightfully evil old lady in the starring role.
Before he became a big success on the comedy circuit Julian was actually a Singing Telegram. His Tarzan routine was apparently his most successful character. We wonder why?
He did do some of those early gigs in drag, until the costume was nicked from the back of his car!