Sexy… Surreal… Stockings!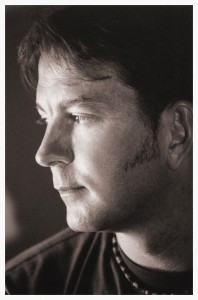 Spurred on by receiving an Adventure Kit, which contained a camera, binoculars, a compass and a water bottle as a 6-year-old, Dean Stockings has never looked back.  The camera became a fascination but not until studying at Brighton College of
Technology during the 90's did it become an overwhelming passion. It was here that his talent… for blagging his way into situations… paid off when he bumped into new pop wave legend Toyah and secured a deal to shoot an album cover for her. Since that fateful day, he has developed a unique and adventurous style unlike anyone else.
Describe your style.
camp, colourful & kitsch – with a little bit of sexy thrown in for good measure!
What is the most difficult part of your job?
Making ends meet.
Is the male form your favourite subject?
Yes – I think it can be incredibly beautiful.
What's the most surreal concept/artwork you've ever come up with?
Probably a shot I did for a video cover for singer and actress Toyah Willcox. The piece is called 'The Assention' and she's shooting up to the heavens from the sea in silver body armour. It took a lot of planning, but was fun to shoot. Oddly, a cover I recently shot for The Humans new album (We Are the Humans), is very simple – a broken eggshell showing the yoke inside – but also very surreal.
Which famous people have had the Dean Stockings treatment?
There's Toyah of course, Joan As Police Woman (Who's also one of Antony's Johnson's), Fatboy Slim, Bill Reiflin (of REM & formerly of Nine Inch Nails), Kyran Bracken (England rugby captain who won Dancing On Ice), Patsy Palmer (Eastenders), Dicky & Dolly (Richard & Lea of Big Brother) and a host of others your readers are probably too young to remember.
Whom would you like to photograph and do you have an idea already how you'd portray them?
Well, other than Queen Elizabeth II (lets face it, not many models would suit my camp & kitsch treatment more than her majesty!), I'd have to say Rufus Wainwright. I think it'd be fun to do some really amazing drag photos of Rufus, but on the other hand, I'd also like to see him in some very tight leather hotpants, in a harness, smoking a cigar! As for the Queen, I'd like to photograph her in a big sparkly Priscilla type outfit wearing false eyelashes! There are a host of other people too, including Francois Saget – he's like a walking, talking Tom of Finland creation.
Who are your main influences?
James Bidgood is by far my biggest inspiration, with Robert Mapplethorpe and David LaChapelle being close runners up. I find the whole New York Pop Art scene from the 60's and 70's very inspiring too, even after all this time. I'd have loved to have joined Mapplethorpe and Warhol for a drink at Max's Kansas City back then…
Does Video/Film direction call?
Yes, I've already dabbled with a few pop promo videos and it's something I find very exciting – it's like 3D photography and the possibilities for creativity are just endless. I'd love to experiment with some high-class porn videos too – I find it really boring when the actors get straight down to the action – I'd love to direct my own and work on some decent story lines!
What is next for Dean?
Well, I'm currently working on a joint project with author Paul Burston for an exhibition in London at the end of this year. I can't give away too many details in case someone else runs off with the idea, but Paul will be creating a story, which I will be illustrating photographically. That's all I can say at the moment, other than there are likely to be a few well-known faces modelling for the project… I'm also putting more time into my other photography business – biggerpixel.co.uk that specialises in wedding and civil ceremony photography – so if you're getting hitched, give me a call!
To view more of Dean's work, please visit his online galleries:
www.deanstockings.co.uk
www.biggerpixel.co.uk
www.myspace.com/dean_stockings