The rise and rise of Gaydar Radio
By Jason Guy: When you think about gay radio what springs to mind? Kenny Everett camping it up BBC Radio in the 80s and 90s? Radio 1's current drive time presenter Scott Mills? Possibly the recent gay character on The Archers? Personally,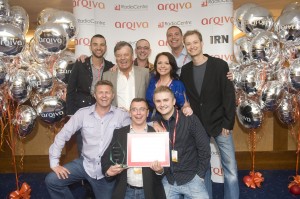 ( and for more than 2 million others worldwide) there's one clear choice. Gaydar Radio.
Back in 2000, just a year after the launch of their dating site, an idea was born. Why don't we provide music for our members while they date and cruise? And so Gaydar Radio took its first steps. The initial proposal was for Ministry of Sound to provide the service, but due to costs, Gaydar decided to go it alone. So, in 2001 they launched as an internet only station. At first, the entire station was played off a single PC that sat on a table that was propped up with a gay clubbing directory, according to the station's first director Jamie Crick.
It was an instant hit with gay men who loved the mixture of camp classics, house music and pop. Within a year the station became available through Sky Digital (Channel 0158). The year after, when rival gay station Purple Radio closed down, Gaydar Radio put in a request to the Radio Authority for Purple's frequency. Their request was successful, meaning they could now be heard loud and proud on DAB throughout London and the South Coast
It was around this time that the station's music policy had a major overhaul. While hosting the Street Party at Brighton Pride, the station's owners were watching the crowds. They found the crowd reactions to the funky, uplifting house that was being played simply blew them away. So much so, that the following Monday the station's existing music policy was thrown out of the window. Camp classics like Steps and Gloria Gaynor were out and in came accessible, uplifting funky house (a la Freemasons et al).
It's the openness to change and it's constantly reviewed, ever tweaked music policy that has won the station it's legions of fans, both gay and straight. Over 330,000 people tune in every week in the UK, with another 2 million listening around the world
"Reflecting what house music is doing is always a challenge" remark's Gary H, Gaydar Radio's Head of Music. "The scene moves at such speed…so striking that balance between familiarity and educating listeners in new music is what keeps me on my toes." Gary's obviously perfect for the job and a quick peak at trophy cabinet shows the radio industry agrees. Best Radio Station at the 2006 BT Digital Music Awards; Digital Terrestrial Station of the Year at the 2007 Radio Oscars (Sony Radio Academy Awards); Station Of The Year in 2007 and 2008 at the Commercial Radio 'Arqiva' Awards. I could go on, but you get the picture.
What next for the station? "An increasing number of our listeners now prefer to stay at home at the weekend" adds Gary. "So while the weekday music remains funky, the weekends have historically been much tougher. Club Nation from 8pm to 7am Friday and Saturday is more representative of the London club scene. I created it to reflect the change in clubbing culture. It's a continuous mix of music, without chat and has had some amazing DJ guests such as Bodyrox, David Guetta & Tom (Superchumbo) Stephan as well as budding DJs looking for their first radio gig."
Throughout the month of June, GaydarRadio will be celebrating the release of Shakedown 2 by The Freemasons with some massive prizes up for grabs and exclusive downloads from GaydarRadioJukebox.com.
You can listen to Gaydar Radio at www.gaydarradio.com, on Sky Channel 0158 or on DAB around London and the South Coast.
Gaydar Radio DJ Profile: Neil Sexton and Debbie Ryan (Mon-Fri & Sun: 7am–11am)
Neil – It all started after he was born in the same place as Elton John. Failed the audition for QVC "I had to sell a pencil". Started his career on Radio in Blackpool "Oh the glamour" before becoming the first presenter on Gaydar Radio.
Random Fact – My boyfriend Jasper was the winner of Sky One's Project Catwalk.
Most likely to say on air: "Debbie… shut up!"
Current favourite track: Chris Lake – If You Knew
Debbie – Dragged up in super-straight Tunbridge Wells by her disco-loving mum & Gay Uncle David. Passport in pocket she jetted to New York, got thwacked by the sexiness of the city, then "the bloody visa expired!" Pommeland beckoned. Lost her tan but found Gaydar Radio, where she and Neil get to gossip with the likes of Grace Jones & Rupaul.
Random Fact – Her Auntie Isobel was Miss Aberdeen and asked to star in that Eau De Naff Joan Collins porn movie – The Bitch. "I'm so proud."
Most likely to say on air: "Would you like fish paste or corned beef in your baps?"
Current favourite track: Roisin Murphy – Overpowered
Gaydar Radio DJ Profile: Stuart
Miles (Mon-Fri & Sun: 11am–3pm)
Best known for his time on BBC TV's Blue Peter, which he presented for 5 years in the late 90s alongside Tim Vincent, Richard Bacon and Katy Hill. He became the first civilian to take part in a Parachute Display with the RAF Falcons Display Team which he says is his butchest achievement….ever!! He also presents travel shows for ITV, has appeared alongside Richard and Judy on this morning, performed in drag at the Edinburgh Comedy Festival and can be found presenting a roundup of movie news for 'Film 24' on Sky TV.
Random Fact – On my last Blue Peter I produced a recipe called 'Stuarts Chocolate Ring'!
Most likely to say on air: "Sorry!"
Current favourite track: Lady Gaga – Poker Face (Jody Den Broeder Mix)
Gaydar Radio DJ Profile: Simon Le Vans (Mon-Fri: 3pm–7pm)
Born in deepest, darkest Hampshire into a farming family, but soon realised my future was in music. I DJ'ed my first gig at the age of thirteen in the local youth club and was soon asked to play at friends parties. I moved to London at the end of the 80s to study Drama and English and eventually came out after a couple of false starts in the early 90s. He soon landed some gigs on the gay scene, working in the cabaret bars and big clubs in London including Heaven and The Fridge. Got my break on Gaydar Radio when Gary H invited him to meet the crew at one of their birthday parties and the rest, as they say is history!
Random Fact – I have a record and CD collection containing at least 15,000 tunes
Most likely to say on air: "Honestly I'm a big butch top… dear!"
Current favourite track: Freemasons Ft Sophie Ellis Bextor – Heartbreak (Make Me A Dancer)
Gaydar Radio DJ Profile: Gary H (Harrison) (Mon-Fri: 7pm-11pm / Sat: 7am–11am / Sun: 8pm–11pm)
Gary has been Head of Music and a presenter on Gaydar Radio for 3 years and has been instrumental in helping overhaul the station sound. The result is not only bigger audiences, but also a growing collection of industry gongs. His international DJ career spans more than 10 years and has taken in Trade, Lo Profile; Heaven, Sunday Sundae in Brighton, Federation, Crash, Substation and the recent London launch of Manchester's Recreation.
Random Fact – He quite fancied being a trolley dolly until he found out he was too tall. "I guess I just like lying on my back."
Most likely to say on air: "This track will blow your skirt up!"
Current favourite track: Gary H: Mark Knight & Funkagenda – Good Times