Zoe's Mantra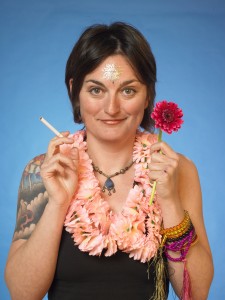 Zoe Lyons makes a triumphant return to the Edinburgh Festival this year after her debut solo show procured her an If – Comedy Best Newcomer nomination.  Here she talks about her latest production, being a patron of Pride and doing crack with Amy Winehouse.
How did you get into the business?
I had been to drama school and I harboured dreams of being an actress for a while but it never really happened for me. I had always wanted to try stand up, but was too terrified. In 2003 I finally did my first, very shaky, open spot at the Kings Head in North London. It was 5 minutes that changed my life.
Who or what inspires you?
If I am ever lacking inspiration a trip to the sliced meats counter there is always entertaining.
Tell us about your new show – 'Mantra'
Mangled Mantra of the Messed up Modern Mind…. to give it its full title, it is a mouthful if nothing else. It is a show about the conflicting thoughts that fly about my head on a daily basis. Why do I crave more when I actually need less, how can I be an animal lover yet delight in the taste of foie gras, why am I proud to be a middle class binge drinker?
Is the Fringe the only place for a comic to make a name for themselves these days?
The Fringe has become a very big industrial fair for comics. It is true if you have a successful show at the Fringe it can really help your career. But there are other ways of making a name for yourself as a comic.  A bit of telly exposure is always good. I plan on being pictured sucking on a crack pipe in Amy Winehouse's grubby flat to fast track myself to stardom.
How do you feel about the people of Lesbos not wanting to be called Lesbians?
Well I think it is putting ideas into the heads of the inhabitants of Dykesville to be honest.  It is slightly hilarious that they are getting so wound up about it. I once saw on a menu in a cafe in Lesbos "Steak in Lesbian Sauce". Come on people of Lesbos …. lighten up!
Who's the queen of comics?
Difficult one, but I guess it has to be Joan Rivers for me. She was recently taken off Loose Women for swearing live on air. She must have sent thousands of tea swilling cake munching grannies into shock. Go Joan!! I can't stand Loose Women, that bunch of bingo winged wingers drive me to drink.
Since you became a Patron of Pride… is it all meetings with Sir Ian, Sir Elton… Sir loin… and John Barrowman?
Not exactly.  I think we should have a patrons party around at Elton's gaff. I am sure the sirs would have no idea who I am. I performed last year at Women's stage at Pride. It poured with rain, absolutely bucketed down. I performed to a gaggle of girls in Peter Storm kagools.
Is there a sitcom just waiting to have the Zoe influence attached to its success?
It would be great to be part of a sitcom…… either writing or performing. The Zoe Show, Everyone hates Zoe, Zoe in the Middle….. the possibilities are endless.
Are you any good at SuDoku?
I went through a phase of doing them every day and I have to be honest I got pretty good at them. But you have to keep practicing, I let it slip and I tried to do one recently on the train, an easy one I might add and I was reduced to mouth breathing and dribbling with the effort of trying to work it out.
Mangled Mantra of the Messed Up Modern Mind
Edinburgh Fringe
Pleasance Courtyard – Attic     2nd- 25th August