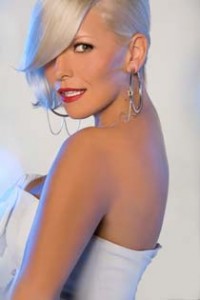 Unstoppable new label Hard2Beat have kicked off 2008 in truly impressive style. Beginning of the year saw their debut release by Basshunter top the UK singles chart for 5 weeks running, becoming only the second dance track this century to manage this awesome feat. They followed up with h'two'o featuring Platnum's smash 'What's it gonna be' which surged up the charts to reach No2. With September's 'Cry For You' the hit factory deliver their 3rd monster hit and introduce a massive new artist who's set to take the UK by storm. Although new to our air waves, September is a young international starlet who's already had a string of hits across Europe. She's also topped the US billboard dance air-play chart for an impressive 3 weeks with this release in 2007 and scored a staggering 2 million hits of the original video on You Tube.
The new 2008 version of the video features September trapped on a sci-fi, female only, neon, Prison Island, where stunning marching Zentai clones are governed by ultra hot futuristic prison guards.
With its haunting vocals and infectious hook 'Cry For You' will undoubtedly be another chart topper for the Hard2Beat stable.
Cry For You
Out: 14th April