MBT Shoe – Mini Gym For Your Feet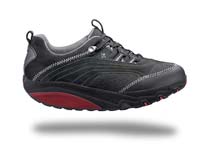 Wearing a pair of MBTs is like a mini workout for your body. The Masai sensor is specially designed to recreate the sensation of walking on an unstable surface. This in turn means your muscles have to work harder, even when standing. This increased muscle activity helps you to burn more calories and visibly tone your body.
In fact, research has shown that walking in MBTs boosts muscle activity in your thighs by 19% and 9% in your butt, so before long you'll be ready to step into the new season's slinkiest styles.
Priced from £135