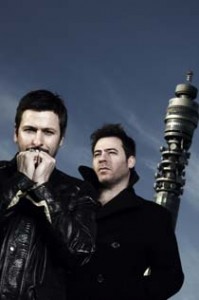 Deepest Blue graced our airwaves with their debut album 'Late September' back in 2004 but have returned with a new single 'Miracle' Simon Savidge caught up with them to discuss solo projects, second album syndrome, gay anthems and getting their kit off for Bent.
The new single Miracle… discuss.
Joel Edwards: Oh it's like… How do I describe it… oh (laughs)
Matt Schwartz: I think it's got two sides to it; it's kind of clubbier than previous singles. I would call it New Age Disco…
J: What is New Age Disco… is there a crystal remix?
M: We've got really good remixes from several great people.
What about the rest of the album, have you changed your sound at all?
J: We have definitely gone for a clubbier vibe this time.
There's been quite a break between this album and 'Late September', has there been a specific reason?
J: (Laughs) We just can't stand each other. No, I went off and did some solo recording and Matt went and did some solo projects, set up a record label and this has just been how long it's taken to get back together and get working on the album.
People always say the second album is the hardest, have you found that?
J: I guess so. We were definite we wanted an album where every song could be a single so now we have ten singles. Maybe we should release them all on the same day? That would be great. You never know we could have the whole top ten (laughs).
M: We made up our minds it should be clubbier, for a while we wanted to make something very acoustic… so its trying everything and seeing what works what you like and its been really special. It's very exciting, how should I call it?
J: Not New Age Disco again…
M: (Laughs) Ok, Club Chicago then?
Where did the name Deepest Blue come from? Is it anything to do with porn 'blue movies' etc?
J: It just randomly came about…
M: No Joel, lets go with porn on this on… yeah, it came from too many blue movies.
Is there a 'gay anthem in waiting' on the album?
J: I think 'Miracle' could be the one. It's got a really good disco break in it halfway through.
M: it's got a bit of a Frankie Goes to Hollywood kind of sense to it.
Is having a gay fan base important to you?
M: Extremely, always has been.
J: We aren't one of those bands who think 'oh we'll make an album for the pink pound'. I just think our music is quite camp and disco. Gay men have good music taste. Really we just do what we do and having gay fans is cool.
M: People with a gay fan base sell more records though that's true look at Kylie or Cher or Madonna.
People really try and pigeon-hole music now, and pop isn't doing so well… so how do you find the industry?
M: It's just feel good music.
J: I love pop music. People complain about the downloads thing but I think its great, we are seeing a chart of what people like and songs are climbing and not just dropping. Obviously not illegal downloading.
M: We might do a Madonna and leak loads of blank mp3's…
J: (Laughs) Deepest Blue firing blanks
M:…or messages saying 'buy the bloody single'. I mean it's what… 99p? Come on! Also people blame the record industry for how people like Britney or Amy Winehouse have turned out its rubbish.
J: You have to have something in your personality that makes you go that way. Plus she's got the money to get good help if she wants it.
M: Should Michael Jackson blame the industry? You know what I mean.
Basshunter said if he went to Number One he would make a porn film and he posed in his pants for The Sun. Have you made any pacts?
J: Matt will definitely do a porn film if he gets a number one.
M: I don't think my wife would like that. (Laughs) Joel will do a feature in Bent for you… naked.
J: That's just of we make it into the top 40.
We'll hold you to that.