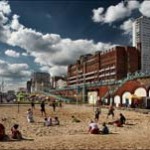 For those looking for a same sex partner, Brighton is the most eligible city in the country after the tiny City of London, according to property website propertyfinder.com research on National Statistics.
Relative to its population, Brighton has the highest concentration of gay couples in the country according to official data, and they have high incomes too. Brighton's gays and lesbians are highly eligible.
Propertyfinder.com's index combines the concentration of homosexual residents with average income to find the towns with the most eligible gays and lesbians. Other than Brighton, London boroughs dominate the rankings. Manchester is the only other place outside London other than Brighton to make it into the top 25. Excluding London, top towns to find a gay partner include Lewes in Sussex (a surprise entry) as well as Bournemouth, Cambridge and Oxford.
If you're looking for the only gay in the village, head to the Isles of Scilly in the South West. The last census recorded only three same sex couples, the lowest number in the whole country. Least eligible gay town is Castle Point in East Anglia.