Gay Couple Guilty Of Setting Fire To Club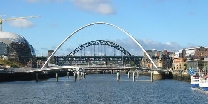 A gay couple have been found guilty of torching a club with more than 50 people still inside.
Stephen Bingham, 40, set fire to the Switch Spot in Newcastle an hour after he was removed from the club for punching the owner.
Bingham was jailed for four and a half years.
He told door staff that they should clear the club because he would torch it.
Bingham returned an hour later with his partner, Michael Simpson, after changing his clothes and buying a tank of petrol from a garage.
The court heard how Simpson dropped a match and watched to ensure that the flames took hold. The pair then walked back to Bingham's flat.
According to the Newcastle Evening Chronicle, Judge David Hodson warned that the attack, which took place last May, could have ended in tragedy.
He said:
"Despite it being in the middle of the night there were still a large number of people on those premises.
"Happily, no-one was injured but the court has to pass a substantial sentence because of the gravity of the offence."
Simpson, 20, was given a 12-month jail sentence suspended for two years after Judge Hodson accepted that the former civil servant had been under the influence of his boyfriend.
The court heard that their relationship has since come to an end.
The defendants both pleaded guilty to arson, and to being reckless as to whether life would be endangered.
Bingham, who has previous convictions for violence, also admitted common assault.
Jamie Adams, defending, said that Bingham was depressed by a family bereavement, and had been drinking when he started the blaze.
According to The Evening Chronicle Mr Adams told the court: "He has genuine remorse…He accepts responsibility."