Gay Icon And Tennis Superstar Amelie Mauresmo Knocked Out Of Australian Open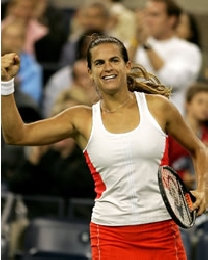 Reigning champion and openly gay athlete, Amelie Mauresmo has been knocked out of the Australian Open in straight sets by unseeded Czech Lucie Safarova. In a fourth-round match she was expected to waltz through, the No.2 seeded Frenchwoman looked out of touch as Safarova took the match 6-4 6-3.
In a first set that lasted 45 minutes, the Czech appeared to be more composed than Mauresmo who notched up 12 unforced errors. Trading service breaks early in the set, things were shaping up for a deciding tiebreaker until Safarova broke the Frenchwoman's service game again to surprisingly claim the first set. Struggling with her rhythm and surprised by the persistence of her unknown Czech rival, Mauresmo retreated into a defensive pattern early in the second set. This change of game plan, however, backfired as Safarova, capitalizing on three break points, marched to a decisive victory.
This is the first major victory for Safarova, who in six previous Grand Slams only got past the first round once, when she was beaten in the second round of last year's U.S. Open. Speaking to the press after ousting one of the tournament's strong contenders, Safarova said her attacking style had helped her win. "I was trying to be more aggressive," she said. "When I was playing against a big player before, I was still hurrying too much on the court and doing so many mistakes." "I wanted to be better now. I'm so happy to win. I can't believe I did it."
This was Mauresmo's worst showing in Australia since losing in the fourth round in 2001. "I'm not completely down," Mauresmo commented to reporters after the match, "just disappointed."