Gaydar Founder In Death Plunge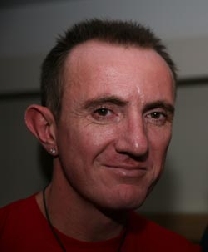 The co-founder of the Gaydar brand has been found dead, police confirmed today.
Gary Frisch, 38, was found outside the south London apartment where he lived alone.
Police are investigating if he fell or jumped from his eighth floor balcony.
The death remains unexplained, but is not being treated as suspicious.
Officers were called to Commodore House at 1pm on Saturday after reports of an injured man lying on the ground.
Mr Frisch moved to the UK from South Africa in 1997 and co-founded IT consultancy firm QSoft.
He launched Gaydar – which is now the world's biggest online dating website – in 1999.
In a statement, QSoft's directors said: "It is with great regret that we make this announcement.
Gary was a highly regarded leader and colleague who cared first and foremost about the gay and lesbian community that we serve.
"He was an accomplished entrepreneur and a very generous man who also cared deeply about the people who worked for and with him.
"Gary's legacy as a co-founder of the Gaydar phenomenon is immense and it is one that we shall both celebrate and continue into the future.
"Gary will never be forgotten and he is deeply missed by us all."
A spokesman for QSoft said an event planned this Thursday in London to mark the fifth birthday of GaydarRadio would go ahead as planned.
Details of Mr Frisch's funeral and memorial service will be announced shortly.
A police spokeswoman said Wandsworth CID were investigating and the death was "unexplained".
The Gaydar website enables registered users to chat to others online and arrange dates.
In the eight years since it launched, the website has grown to become the biggest dating site in the world.
Digital radio station GaydarRadio began broadcasting in 2002 playing a mix of modern and classic pop as well as news relating to the gay community.
Gay rights campaigner Peter Tatchell today paid tribute to Mr Frisch's influence on the gay community.
He said: "Gary and Gaydar have had a huge impact on the gay culture. They have created an unprecedented online community and now branched out into radio.
"Gary will be long remembered by the hundreds of thousand of gay people who have benefited from the Gaydar phenomenon he helped create."