Gay Characters Return To Channel 4 On Shameless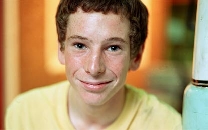 To the uninitiated, it might not sound like very appealing television. A family of scallies, living off their wits in a run down council estate in the North. As comedy goes, it is not exactly The Good Life.
Tonight will see a triumphant return to our screens for the Gallagher family, among them a well-adjusted gay teenager and his maladjusted lesbian mother.
Shameless , Paul Abbott's heart warming tale of family life on the Chatsworth estate, returns for a fourth series on Channel 4, promising to push the boundaries even further than ever.
The show was notable for its portrayal of an intergenerational, inter-racial gay love affair in its first series.
Ian Gallagher, then just 14, was having sex with his Muslim shopkeeper boss, a love that was portrayed not as scandalous or sleazy. It just happened.
Ian had to come to terms with his brother, Lip, finding out, and had to keep his sexuality a secret from his lazy alcoholic father, Frank, at all costs.
Ian gained in sexual confidence in the second and third series, at one point bedding a police officer, and we can expect to see more of his gay antics in the coming weeks.
There is also a welcome return for Ian's AWOL mother, Monica, who appears in the first episode and quickly begins to try and win her husband Frank back. Which is a problem for Sheila, Frank's new (and bigamous) wife.
Can Sheila re-unite Monica with her lesbian lover in time? Will Ian find true love? And are golden couple Fiona and Steve (Anne-Marie McDuff and James McAvoy) ever coming back to the Chatsworth estate?
There is only one way to find out.