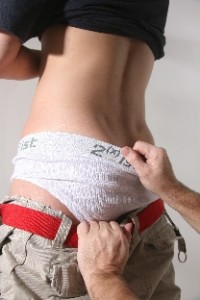 It's been a few months now since I arrived at University and after the initial 'meeting' of new people and so forth it was time that I settled into my studies. Yet being a guy who likes to lap up cum off a washboard stomach or swallow it like it was medicine, my dedication did not last long.
One thing however, I needed a job to finance my party boy lifestyle – not a happy thought. Let's just say though that the job with the cutest guys won. It also didn't take me long to get 'in' with the guys either. Alas no-one thought I was gay until I was working in the clothes shop stockroom with a fucking fit as you like guy, whose name I wont say, he wont like it. Such a funky guy whose jeans barely stayed up, hypnotised me all day.
Finally, joking that he should just drop the jeans he shocked me by actually doing just that, but going one step further by whipping off his threadbare boxers. I've never moved so quick in my life to block the entrance to the door so that no one could interrupt the naked hot guy in front of me. Then I walked over to Ryan (oops sorry…let it slip), who was licking his lips, wanking his nice cut cock and fingering his juicy ass… it made me hot from head to toe.
Not one word was uttered as I turned him round and bent him over, in front of the window (1st floor) I couldn't care less who saw as I started to play with his ever so smooth ass. I slowly started to explore the juiciest hole that I've had this month and getting it more and more wet with anticipation. After slowly opening him up with one finger I managed to get a full three in and moans-a-plenty. His knees buckled with each sliding motion.
But enough of him, I needed some action. Shedding my own jeans and boxers I climbed onto a shelf which was at the height of Ryan's head and pulled him forward, desperate to get his salivating mouth round my expanding cock. My god my cock was twice as big as usual, veins throbbing. Finally, while sucking me off he teased me by tugging on my balls and playing with of my asshole.
Ryan had talent, sucking like a cum hungry slut he nearly mad me shoot my jizz right there and then. Fuck that, I threw caution to the wind and wrapped my legs round his head and emptied my cum all the way down his throat, it was too good to resist. He seemed to like it as well, the way he swallowed was like he'd never eaten before. Licking his lips and with such a look on his face told me we were not yet done.
Pulling me off the shelf Funky found a pile of clothes for me to kneel on and began opening me up. Out of the blue he ripped open a condom and wrapped up. Rimming and using his spit he made me ready for what was coming. Jesus I hadn't realised his cock was THAT thick, I didn't mind though as I started to writhe around slowly on his cock.
He soon took the lead and held me in position, splitting my ass with fucking cum inducing hard thrust again and again, cock and hands doing the work, which I loved. After which I then climbed back onto the shelf, ass in the air so he could slide in with ease and get in much deeper. He found that elusive G-Spot, making me want to scream with such intense pleasure.
Pulling me off the shelf again I ended up where we started… at the window… eventually taking his cock and cum all over my back, gutted though that I didn't get the chance to swallow this time. In the meantime, I dread to be the person that tries on the t-shirt that he used to wipe up with. Right… back to work, and earn some money for that web cam.