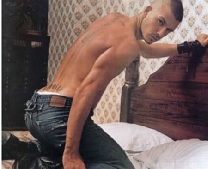 The front page news in the Daily Star today concerns David Beckham's apparent 'fury over naked gay calendar pics'.
Unfortunately, it turns out that the naked pictures aren't actually of the hunky Beckham, but of a poxy lookalike. Indeed, it's not even a gay calendar, it just happens to be sold on a gay website.
The Celebrity Hunks Around the House 2007 calendar is quite possibly one of the naffest things you could hang on your wall, and could only be excused in an ironic, post-modern nod towards our celebrity obsessed culture.
The Daily Star is very excited about the fact that the calendar is sold alongside gay 'kinky bondage and sex aids'.
Regrettably, this does not make David Beckham gay, nor does it change the fact that 'lookalike' is a rather optimistic term for somebody who has neither the body, nor the features of the most lusted after footballer on the planet.
The calendar also features lookalikes of Brad Pitt, and Prince William, 24, doing the ironing, dusting and cooking. It has to be said, the Brad Pitt poser does look rather like the star and is quite a dish on his own merits.
What makes the whole business laughable is the hideously cheap setting for the photographs. If Beckham or Prince William were to do domestic chores in nothing but a little apron, one might expect their living room/kitchen to reflect their economic situation.
This tawdry calendar looks like it was shot in a council flat in Slough. Net curtains, chintzy rugs and cheap framed pictures render the whole affair as more 'readers' wives' than celebrity hunks
The novelty calendar is billed as: "Every woman's dream come true – men doing the housework, especially as hunky as these lookalikes. Enjoy the fantasy 12 months of the year. The perfect Christmas gift."
The £6.99 offering is set to be sold in stores such as Clintons, HMV and Virgin.