Interview > Chris Amos
NO MOUNTAIN HIGH ENOUGH
ANG LEE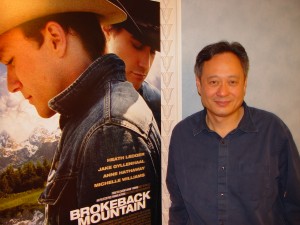 This month sees the release of arguably the most important gay film of the decade. Brokeback Mountain has already received wide acclaim from critics and won best film prize at the recent Venice Film Festival. Those in the know believe it will be up for several Oscars this year. The man at the helm, Ang Lee, has become one of today's greatest contemporary filmmakers. His CV lists some of the greatest films made in recent times; Sense and Sensibility (1995), The Ice Storm (1997), Crouching Tiger, Hidden Dragon (2000), there is also Hulk (2003) which many either loved or hated. Going from the special-effects epic of Hulk, Ang has chosen to bring to the screen a gay western based on an award-winning short story by E.Annie Proulx.
An epic love story set against the sweeping vistas of Wyoming and Texas, Brokeback Mountain tells the story of two young men – a ranch-hand and a rodeo cowboy – who meet in the summer of 1963, and unexpectedly forge a lifelong connection, one whose complications, joys and tragedies provide a testament to the endurance and power of love. The lead actors Ang has chosen are a gay man's fantasy; Australian Heath Ledger and Donnie Darko's Jake Gyllenhall. Let's hope the star calibre makes the more ignorant people amongst us forget their prejudices and turn out to see what is the most significant gay film in a long time.
Why did you choose a gay love story after working on Hulk?
Actually I had to choose between this movie and Hulk about four years ago. I saw something special when I read the short story. I was so moved, I got choked up. Before I realised it was a gay story it was a western, something realistic and so poetic. When it got to when Jack says to Ennis, "Oh My God, it's Brokeback Mountain," everything builds from there. Back in those days, out there, for someone like Ennis he probably hadn't even heard of the word "gay". He has no vocabulary to understand what he feels. Very poignant. Such a romantic piece of work; in something for a western, it is so homo at the same time they are nurturing animals. It is so matter-of-factly beautiful… But I went and did Hulk anyway. After though, no one had done Brokeback Mountain – I didn't want anyone else to do it.
Have you heard some people in the gay community are calling the film Bareback Mountain?
Bareback Mountain? No, I haven't heard that yet. In Chinese "brokeback" doesn't mean anything. But I was thinking of calling it Brokesleeve Mountain. The Chinese are not uptight about gay lifestyle, it is even fashionable. There was this Emperor, well he was gay. There was this one lover he so adored, one day they were having a nap together. He had to leave for something important and didn't want to wake his lover who was asleep on his sleeve. So he took a knife and cut the sleeve. So the Chinese say "to intend to cut his sleeve," that he is gay. So Brokesleeve Mountain is probably more appropriate.
The scene between Ennis and Jack get it on in the tent – how many takes were needed?
Thirteen takes for that act. The whole thing is one take, handheld. One side of the tent is lit for the camera man and me to squeeze in there. We ended up using number seven take.
It is a classic scene which will go down in history…
The camera man did a fantastic job.
How did you decide upon Jake and Heath for the roles?
Well first of all I decided to go for younger actors, who can play older characters – they age twenty years of course. The acting and make-up can make big differences. They are among the best of their age group. I go for the best actors. Heath, I think carries that western thing for me, the western mood really well. He is our anchor man. After that, instead of how Jack was described – also mucho and burly but shorter in the short story – instead I chose Jake not only because he is a great actor – eventually, I don't care that it is a western, it is a love story. Doing a romantic love story I think Jake compliments Heath very well. Emotion, wise, romance, he is braver more optimistic to play opposite Heath really well.
You have hired Heath for this and previously Eric Bana in Hulk; do you like working with Australians?
Yeah, I like to work with white Asians! (laughs) I don't know, it wasn't planned. They are good, carry the disposition for the movie.
You won the best film prize at Venice Film Festival and Brokeback Mountain is now a front runner for Oscar glory, do you have high expectations now?
I wanted to do a small film and have a good time making it. When I set out to do this I imagine it to be an art house release in big cities. So if it goes to Oscars it might open wider… Very small open and see what happens. I feel very happy and blessed that I made this movie. It is good that people are calling it gay cowboys and calling it a love story.
Why is it all the great love stories have tragic endings?
They chew your heart and stay with you.
Had you considered ended the movie differently?
No, I wouldn't dare. It chewed me up and I wouldn't have it any other way.
Last year Oliver Stone came under fire for including too many gay references in Alexander? Did this influence your edit?
No, no. We stuck to the original story.
You have approached homosexuality before in The Wedding Banquet with the Chinese man faking his marriage to satisfy his parents; are you gay in real life?
No, in The Wedding Banquet, the family situation was very close to my life. If I am gay that would be the story. That was a family drama, I had to do it right. It was the first male to male kissing on screen in Chinese cinema. Everybody took a big gasp in the cinema. But now I think Taiwan in more open in terms of gay issues than America. It opened up and it got the Golden Bear (Berlin International Film Festival). But it was more a family drama. With Brokeback Mountain, it is gay love story and I had to get into the gay mentality a lot more.
How do you think Brokeback Mountain will go down in Taiwan were you are celebrated?
Hard to say, the western was never a big genre there. The Taiwanese market is a lot of smarter.
Do you think there is a possibility that Brokeback Mountain will crossover into mainstream, like what happen with Crouching Tiger Hidden Dragon?
It is harder, that was a martial arts film. This is a much quieter movie. Tragically just by nature I don't see how it could do the same sort of business as Crouching Tiger. Gay is very alright now but gay cinema… is independent movies.
But what about this film season with Val Kilmer playing a gay character in Kiss Kiss Bang Bang; there is also Capote – there is something about this season… it has gone very gay.
Maybe we got tired of heterosexual movies, hard to find fresh material. All of those movies took years to take off the ground. This took eight years, the time is right.
Was it quite strange having the blossoming romance between Heath Ledger and Michelle Williams (his wife in Brokeback Mountain and in real-life they are an item and recently had a child together) on set?
It never really happened on set. It seems like then, I was pushing him for Jake and he was going the other way! It doesn't affect their performances. They are serious actors.
Do you think it could have been a heterosexual actor's reaction playing a gay character that prompted him to go and fall in love with the leading lady?
It didn't look like they were mixed up. In the story their (Ennis and Jake) first real kissing scene; is kissing in the outer stairway. After we turn around to show Michelle's reaction shot, the guys were kind of helping her out by cuddling each other and she really wanted them to do it. So they started kissing each other on the lips and she yelled at them, "You got to do it for real!" That is the kind of actors we have, they are professionals.
You have won loads of awards, is there one that means most to you?
Getting this Golden Lion (Best Film) at Venice Film Festival was pretty special.
What else do you wish to achieve?
Just keep making movies. Sometimes the awards are a burden. Making movies is a way for me to learn about things and people; that is the way I like to live my life. Also you have to work for the awards and carry the movie. Also awards mean audiences anticipate what you going do next. I don't want to sound jaded – that is the reality of my life. However when you get approval it is great.
Thank-you so much for the interview.