LGBT – Modern Social Trends

On the basis of polls held among a 15 mln. audience Meetville started a new project Modern Social Trends that focuses at society and reveals its opinion on key, much-debated issues.
The infographic below focuses on Homosexuality and reflects public opinion on several, such as same-sex marriages, gay parenting, connection of single-sex education and forming of sexual preferences.
The total number of poll votes was 154,781, the majority of which were given by citizens of the USA – 64%. Average age of participants is 34 years old.

The problem which causes the biggest concern is same-sex parenting, as doubts are expressed whether children will be able to develop their sexual identity consciously and not become restricted to the homosexual choice of parents. According to a poll, conducted by Meetville.com, 58% believe homosexuals are equal in raising children. In accordance with majority votes, Fredric Neuman, M.D., Director of the Anxiety and Phobia Treatment Center, remarks: "Impressionable children cannot be persuaded to give homosexuality a try by sweet talk from a teacher or a scoutmaster. It is hard enough to convince them to bathe regularly, let alone get them to take off their clothes in unfamiliar settings. I had trouble getting my own children to try unfamiliar foods."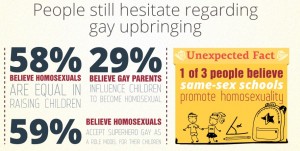 29% of those polled still assume that children of gay couples are influenced by their parents to become homosexual. This opinion is challenged by Abbie Goldberg, Ph.D., Associate Professor in the Department of Psychology at Clark University. In her interview she provides explanation: "These kids express various benefits with regards to having samesex parents. Seeing their parents be who they were, regardless of sexuality, enabled them to be flexible and accepting of themselves — to understand that they can be a woman who likes to fix cars, or a guy who likes to dance, for example. Basically LGBT parents serve as role models for not having to live in gender-straight jackets, and these young adults grew up feeling they could do and be anything."
In a recent poll Meetville.com also touched upon a controversial topic of introducing gay superheroes in comic books. While 59% believed it was acceptable, a group called "One Million Moms" stood up to the changes: "Adult gay men want to indoctrinate impressionable young minds by placing these gay characters on pedestals in a positive light."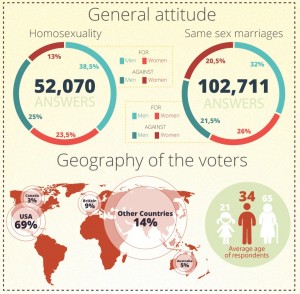 Single-sex education was too attacked by anti-gay activists, who claim these schools promote homosexuality. A poll by Meetville.com indicated this opinion is not shared by the majority.  Robert Kennedy, staff-writer, covering the topic of private schools, claims that "…raised in a homophobic society we tend to look at single sex schools through sex-coloured glasses. The truth is that there probably are no more gay and lesbian students in boys' or girls' schools than there are in coeducational schools."
Alex Cusper, Meetville service analyst, sums up: "Rapid growth of homosexuals stirs up a lot of debate. That is because this issue affects many ethnic, cultural, religious groups. Whether it is moral and right to promote same-sex relationship stays an open question. Hence, in this infographic we provide public opinion on various aspects of homosexuality, which reflects actual situation and helps anyone to shape the opinion on the future of the issue."
We are so glad to share good news with you! Our new project Modern Social Trends is launched. Meetville has about 15 million active members and thousands of people willing to answer important questions and share their opinions on different topics. Our community is growing every day as more and more like-minded people join Meetville. People's answers reached a point when they start to reflect society's opinions on various aspects of life. This inspired us to create Modern Social Trends.
Comments via Facebook
comments