Travel – We are Family, especially in Brighton!

More and more gay families now include children – adopted, biological, maybe even from previous heterosexual relationships. So where better to take your little darlings than for a fun few days out by the seaside in lovely Brighton? Maybe even for Brighton Pride (Sat 2 Aug 2014)!
Brighton is a fab gay place; and a fab place for kids. So, if that ticks both yours boxes, where better?
STAY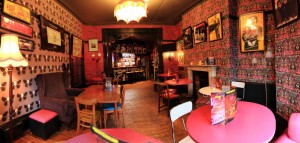 Stay at chic, cheeky, quirky Hotel Pelirocco (10 Regency Square, BN1 2FG; T; 01273 327 055; www.hotelpelirocco.co.uk) which rightly describes itself as "England's most Rock 'n Roll hotel", drawing inspiration from pop subculture, especially maverick musicians.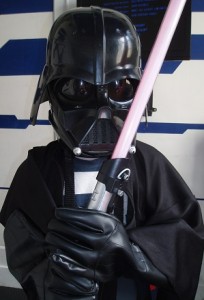 Right on Regency Square, slap bang on the seafront in the heart of Brighton, it couldn't be better placed. Its 19 themed hotel rooms conjure up various worlds, from punk to Dolly Parton, from mods to rockers. One of the newest offerings – styled as a "father and son cabin", with a fun bunk bed – is Lord Vader's Quarters, perfect for any Star Wars fans, and featuring a Light Sabre, Darth Vader costume, cosmic ceiling and Star Wars DVDs. But several of the other rooms would appeal to children of either gender too – not least Dollywould, Pretty Vacant and Do Knit Disturb! Great breakfasts are yours for just a little extra. Fab bar-lounge area 'n all, whether for relaxing with a saucy cocktail or going wild at a live gig. The staff, lead by charming Marco, are brill. And this fun hotel really knows how to unleash the inner child in all of us! Rock 'n Roll, baby!
 EAT
The Regency (131 King's Road / Regency Square; T: 01273 325014; www.theregencyrestaurant.co.uk) – one of Brighton's oldest and finest fish restaurants, dating back to the 1930s, and overlooking the Georgian Regency Square, and the sea. Tables inside and out. Fab kid's menu too.
Café All'Angolo (3-4 East Street; T: 01273 777312; www.facebook.com/cafeallangolo1?fref=ts) – an authentic yet recently re-launched Italian corner café-restaurant, mere metres from the front, run by charming chef-owner Christian and his adorable team of highly child-friendly staff, like lovely Joshua! Eat inside or out. Great fish dishes, plus excellent children's menu.
Verano Lounge (95 Western Road; T: 01273 205424; www.thelounges.co.uk) – a recently-opened bright and airy café-bar-restaurant, over two levels on the vibrant Western Road, with a brilliant 'Little Loungers' menu. Nice cocktails too!
TOP TEN THINGS TO DO WITH CHILDREN IN BRIGHTON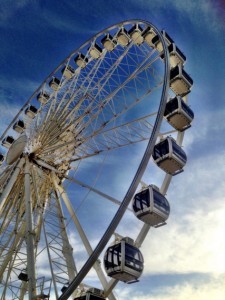 The best thing about Brighton is that it is such a short train ride, from London at least; and you can access many of its top attractions – sea, beach, pier and parade – for absolutely free!
To buy your tiny treasure a wee souvenir treat, browse the rambling cutsie shops in The Lanes quarter, or the more modern or Bohemian designer boutiques of the trendy North Laine district. Maybe take in a suitable show or musical at the ornate Dome, or glorious Theatre Royal.
BRIGHTON & HOVE PRIDE: SAT 2 AUG 2014 (www.brighton-pride.org)
Of course, you're unlikely to sneak your sprog past the bouncers at the clubs, and – even where its licence permits it – a pub can be a bit of a bore in a child's bigger scheme!
That said, all ages love a party! And, one of the biggest and best Pride Festivals in the UK, this year's Brighton & Hove Pride kicks off with the free 'The World's A Disco' Pride Parade – cue a fabulous array of music, dance and colour from around the globe, simultaneously highlighting the plight of many LGBT communities worldwide! This is followed by the ticketed Pride Festival in Preston Park, featuring a main stage with top live acts and special guests, plus dance tents, cabaret and funfair, plus market and community area. All children under 12 receive a free ticket when booked with an adult ticket.
Useful websites: www.visitbrighton.com; www.visitsoutheastengland.com
Brighton is under an hour from London Victoria by Southern Railway: www.southernrailway.com  
Comments via Facebook
comments