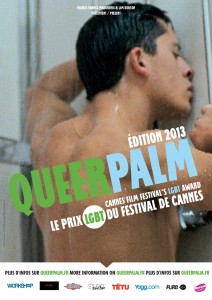 The Queer Palm awards a feature and short film among all of the Cannes Film Festival selections with a dedicated jury honouring films for their treatment of Lesbian, Gay, Bisexual, Transgender.
Kaboom from Gregg Araki (USA) was the first Awarded film in 2010, followed by Beauty (Oliver Hermanus – South Africa) in 2011, and Laurence Anyways (Xavier Dolan-Canada) in 2012. Since 2012, the Short film It's Not a Cowboy Movie (Benjamin Parent-France) was the first winner in May 2012.
This year, cult Portuguese director, João Pedro Rodrigues will be the president of the 4th Annual Queer Palm jury taking place in Cannes 15-25 May. João Pedro Rodrigues credits include ; O Fantasma, Odete, To Die Like a Man and The Last Time I Saw Macao João Pedro Rodrigues(co-directed with João Rui Guerra da Mata). An image from his acclaimed first feature O Fantasma is the Queer Palm poster for this year.
The Queer Palm Award is a Workshop Prod. (France) and Indie PR (USA) coproduction, in partnership with Epicentre Films with medias partners : Libération, Studio Ciné Live, Têtu, Yagg.com, Pure Channel and Le Mensuel.
The awards ceremony will take place on Saturday 25th May in Cannes.
For more info please visit www.queerpalm.fr
Comments via Facebook
comments