CAMEROONIANS ARE "CHANGING THEIR MINDS" ABOUT GAY PEOPLE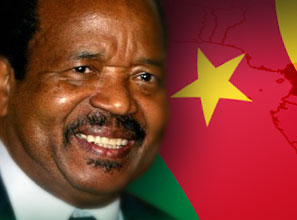 President Paul Biya
Cameroonian President Paul Biya said in Paris on recently that minds in the country are evolving on the subject of gay people.
The statement followed a global outcry from global movement for equality, All Out (www.AllOut.org). 122,000 All Out members have signed a petition to Biya calling for the freedom of a man named Roger Jean-Claude Mbede and all those jailed under Cameroon's anti-gay law.
"President Biya said there may be movement away from the criminalized and negative treatment of lesbian, gay, bi and trans people in Cameroon — but the truth is that Roger just had his jail sentence affirmed for sending a text message expressing love to another man, and others remain in jail after being accused of being gay," said Andre Banks, Co-founder and Executive Director of All Out. "Things are getting worse, not better, for gay people in Cameroon. It is time for more action and less talk. Biya must free Roger and others accused of being gay through an immediate end of the anti-gay law."
President Biya pointed to a recent groundbreaking case where two individuals, known as Francky and Jonas, were acquitted after being sentenced to 5 years in prison. Francky and Jonas were convicted in 2011 when a judge said the way they dressed, the way they spoke and that they liked Bailey's Irish Cream proved they were gay.
To see the live signature totals from All Out's petition visit:
http://www.allout.org/roger
http://www.allout.org/hollande-roger
Comments via Facebook
comments