Rugby Tackles It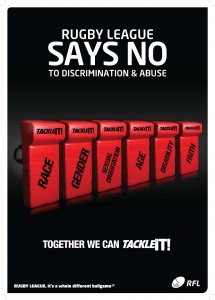 The RFL has launched a new game-wide 'Tackle IT' Equality and Diversity programme, which aims to increase awareness of issues such as racism, homophobia and other forms of discrimination and prejudice within Rugby League.
The 'Tackle IT' campaign features seven promotional posters and a promotional DVD which will be made available to all professional and community clubs in the UK. The campaign sees the RFL become the first UK sports governing body to produce a resource that simultaneously tackles and celebrates all six key equality strands of; race, sexuality, gender, disability, age and religion.
RFL Chairman Richard Lewis said: "We are committed to making Rugby League one of the most open and friendly sports in the UK and the Tackle IT campaign is the latest step aimed at ensuring we can achieve that goal."
To view the 'Tackle It' DVD visit http://www.therfl.co.uk/equitydiversity/tackle-it
Blog Spot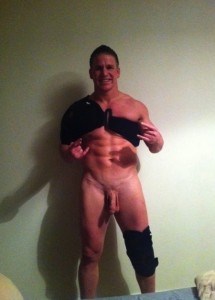 Courtesy of one of our favourite blog spots WOW (http://worldofwonder.net ) we get to see our favourite hunks letting it all hangout. We'll leave it to the blogger to explain all:  After a nutty night with his teammates, UK rugby star Wayne Godwin posed for some naked pics (as you do) and posted them to Twitter (as you do) and, you know what? Good for him! There were no denials, no equivocating or dithering , just one straight-up, in-your-face cock shot for all the world to see, no apologies, and certainly nothing to be ashamed of.
And the boy is shaved which make it soooo much better to see. Thanks Wayne you've perked up the Bent office a treat.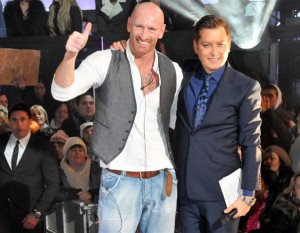 Rare wisdom from Celebrity Big Brother house – Gareth:
"I didn't worry about people liking me, I just concentrated on liking them"
Comments via Facebook
comments