Review: Hansard, Lyttleton Theatre (National Theatre)
by Adrian Gillan for www.bent.com
1988. Section 28. And politics gets personal between a Tory MP and his wife! Bent's Adrian Gillan hails Hansard, Simon Woods' witty yet shattering new two-hander at the National Theatre!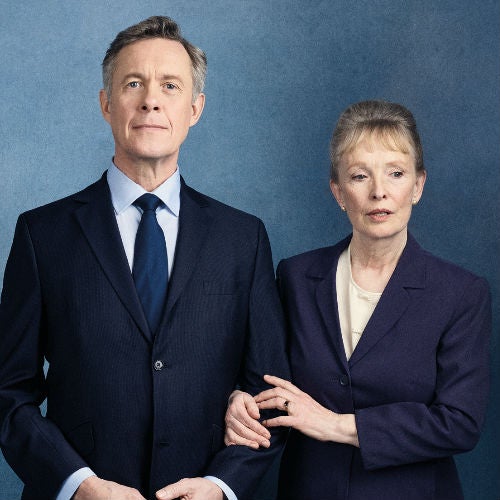 Two of our country's finest actors mesmerise non-stop for 80 minutes in one of the most witty, edgy, politically thought-provoking and emotionally devastating pieces of theatre I've seen in recent years.
An Old Etonian Tory MP has just backed Section 28 – the notorious piece of legislation that banned local authorities and schools from "promoting homosexuality" and from teaching its "acceptability" – much to the distress of his wife. Cue a soon-escalating fracas between the couple on his return to their Cotswolds home that weekend – the underlying fault-line for which eventually emerges, capped by two final heart-breaking, and intriguingly potentially martially healing, revelatory twists.
This is actor Simon Woods' first staged play! And what a stunner! The specific anti-LGBT legislation in the spotlight may be at the emotional heart of the piece, and pack the final gutting punch; but, en route, it also acts as the catalyst for a far broader political dog-fight between husband and wife as we are privileged to witness a battle royal – right vs. left respectively – plus gender and class angst galore!
Woods' genius – to avoid the drearily didactic dramatic doldrums entered into by amongst the most established of political playwrights on this very stage not so many months ago – is that equally dazzling verbal volleys are sent in both directions, regardless of the dramatist's own proclivities. The personal flaws, follies and vulnerabilities of both protagonists are laid bare in pretty even measure.
The exquisite ebb-and-flowing balance of this eternal joust builds and sustains the dramatic tension throughout, given added pertinence by the fractious political climate we all find ourselves in at present.
The work sizzles and spits from start to end with droll gin-dry witty one-liners, and musingly playful prose poetry and metaphor. It also ingeniously breaks the "fourth wall" – the auditorium becoming a fox-ravaged garden – alongside the odd amusingly knowing script reference to its own intrinsic theatricality!
This finely written play is served by an acting masterclass of an order rarely seen, from two Olivier Award-winners on top form and in exquisitely taut Bloody Mary-making rapport.
As Robin Hesketh, Alex Jennings exudes public school privilege, confidence and self-justification, suavely deflecting his wife's jibes until he cracks, leading into the final twisty denouement passage. As said wife, Diana, Lindsay Duncan emanates a pitiful, desperately broken, alcohol-numbed, scarcely functioning ghost of a figure, whose sarcastic deadpan delivery yields constant humour until her final climactic confession, prompting his. Both characters are ultimately consumed by guilt at the betrayal of the one they loved; and the closing cine-projected images leave you gut-wrenched, breathless, winded.
Director Simon Godwin brings this sublime conjunction of writing and acting talent to blissful fruition, the high-end rustic-chic Cotswold idyll atmospherically conjured by his core creative team of Hildegard Bechtler (design and costume), Jackie Shemesh (lights) and Christopher Shutt (sound).
Already shared with wider audiences in cinemas across the UK and beyond as "NT Live", Simon Wood's precociously brilliant first play – with its tiny top-notch two-strong cast, and single set – deserves a heap of nominations and gongs; and – now in its final weeks on the South Bank – surely merits a river hop?
Hansard runs at the Lyttleton Theatre (National Theatre) in London until 25 Nov 2019. For more info and to book tickets, call 020 7452 3000
– ends –