Review: Don Pasquale, Royal Opera House
by Adrian Gillan for www.bent.com
Comic caution on ageing, vanity and legacy! Bent's Adrian Gillan hails a timelessly relevant revival of Donizetti's late Opera Buffa masterpiece, Don Pasquale, at the Royal Opera House!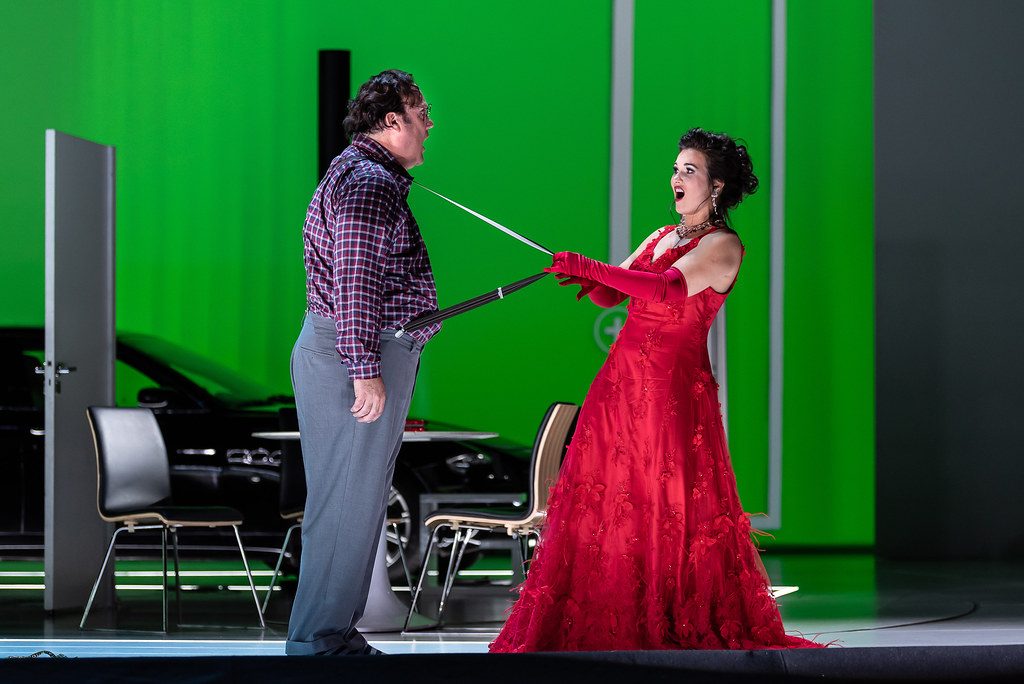 With a libretto he co-wrote with Ruffini, Donizetti's tuneful late comic gem Don Pasquale rebutted carps of its already being outdated, the very moment it opened in 1843; and has remained – alongside L'elisir d'amore and Lucia di Lammermoor – amongst the most loved and performed of his works ever since!
Although the culmination of a long and varied Opera Buffa tradition, drawing heavily upon Commedia dell'Arte theatrical conventions – not least in relation to character archetypes, notably Don Pasquale being a Pantalone – the work's simple yet clever plot, endearingly cheeky characters, glorious melodies and rhythms and, above all, its timelessly relevant themes have firmly enshrined it in the opera canon.
This latest rendition – a co-pro between the Opéra national de Paris, The Royal Opera and the Teatro Massimo di Palermo, which opened in Paris' Garnier opera house back in March (2019) – uses bold, yet ungimmicky, contemporary design, setting and costume to relate the story directly and freshly, anew.
The tale – of an aging bachelor seeking to teach his headstrong and in-love nephew a lesson by getting himself a wife and thus disinheriting the young couple – works on multiple thematic levels. It is about domestic control, and the abuse of power, gender and money. Yet it is also a moving and sympathetically astute parable on aging, pomposity, vanity and the egotistical desire for legacy.
If the tables are, at last, harshly-yet-justly turned on Don Pasquale, we see enough of ourselves in him.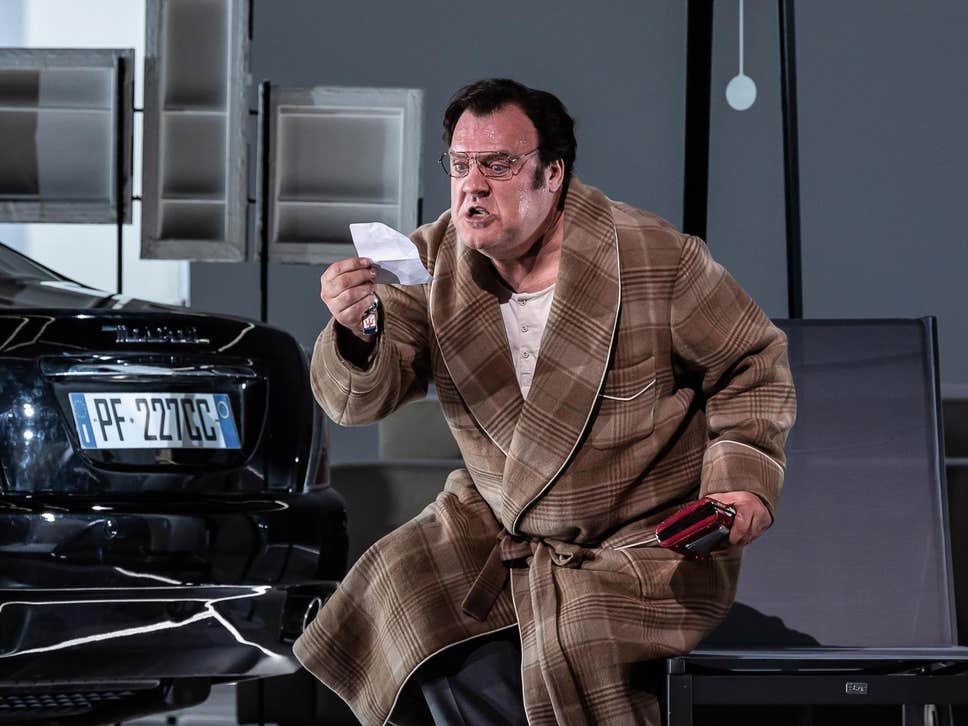 Great Welsh bass-baritone, Sir Bryn Terfel – one of the opera world's more naturally endearing personalities – is perfectly cast to engage our sympathies in the comically domestically tyrannical title role. Top-notch singing; but also clear characterisation, in gesture, gait and use of costume and prop.
Romanian tenor Ioan Hotea shows off his deliciously light yet muscular voice as the nephew, Ernesto – kept almost as much in the dark as his uncle, as shenanigans unfold. As the young female love interest – for both Ernesto and Don Pasquale – Russian-German soprano Olga Peretyatko clearly relishes her Royal Opera debut, savouring the intrinsic theatricality of the flirty and defiantly dissembling Norina; she under the guidance of machinating match-maker, Doctor Malatesta, superbly played by Austrian baritone, Markus Werba, whose scheming ultimately administers Don Pasquale some much-needed if hard-to-swallow "soul medicine" – aided by English bass Bryan Secombe in the seeming Notary cameo.
Italian charmer Evelino Pidò conducts with élan and like he's loving every single beat – hard not to, with such a fine cast, and with the world-class Royal Opera Chorus and Orchestra of the Royal Opera House at one's disposal! And all amidst what is surely amongst the most gorgeous theatrical venues on Earth!
Young Italian director Damiano Michieletto triumphs with this crisp, playful, contemporary, relevant staging, shaping a well delineated rise-and-fall arc. His use of additional occasional non-speaking actors onstage – most notably Don Pasquale's surly-yet-mischievous old maid – is a masterstroke; as is his clever use of blue/green-screen technology to "project" singers live onto massive video backgrounds.
Headed by Paolo Fantin (set) and Alessandro Carletti (lights), Michieletto's all-Italian core creative team strips the setting down to just (frameless) doors, key props and furniture and a raiseable neon roof lattice, all on a sporadically revolving platform – throwing emphasis, all the more squarely, onto the performers, and indeed onto their excellent costumes, designed by Agostino Cavalca. The way the whole on-stage milieu "trades up" – as goading Norina starts provokingly spending the wealth of her hitherto miserly, now increasingly exasperated, new "husband" – is a true coup de théâtre!
Funny, moving, warm-hearted, thought-provoking, still-modern and utterly tuneful: 2½ hours whizz by!
Royal Opera 2019/20 Season
The Royal Opera's 2019/20 season features a host of much-loved revivals as well as over a dozen brand new productions, including two world premieres! Main stage highlights include The Magic Flute, Death in Venice, Otello, La traviata, La bohème, Fidelio, Jenufa, Cavalleria Rusticana / Pagliacci, Tristan und Isolde, Elektra, Lucia di Lammermoor, Madama Butterfly, Don Carlo and Tosca!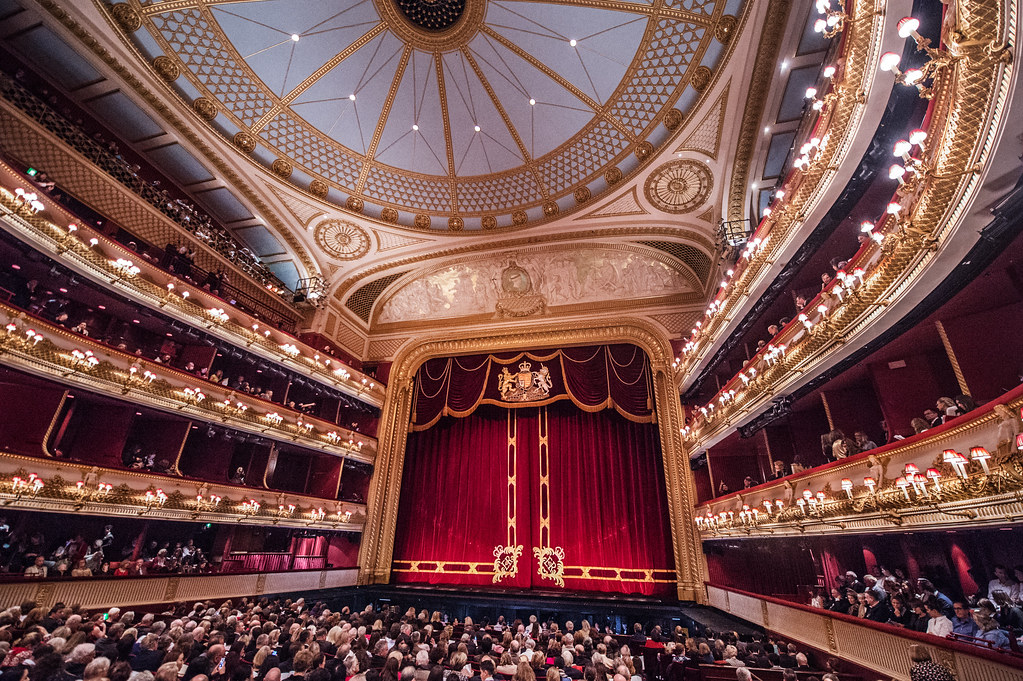 – ends –