Review: Blood Wedding, Young Vic, London
by Adrian Gillan for Bent
 Tragic cycles of brutal tribalism! Bent's Adrian Gillan hails a clever "Celtiberian" adaptation of gay great Spaniard Lorca's prescient masterpiece, Blood Wedding – at the Young Vic, London!
The first instalment of Federico Garcia Lorca's "Rural Trilogy", Blood Wedding (written 1932, premiered 1933) – which dramatically and symbolically explores deep-seated eruptive psycho-societal tensions and repressions – is prescient on both a social and, for author, a personal level. Spain was about to undergo a bloody three-year feud-filled Civil War (1936-39), pitting village against village, family against family. And the poet-playwright himself was to be murdered (1936) shortly after this violence flared – most likely for his political affiliations, as well as for his open homosexuality.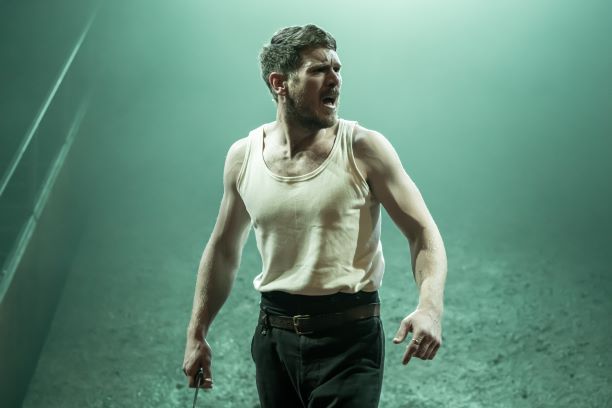 A staple of fringe and drama school, major British professional productions of Blood Wedding are sadly few. This latest revival, within the gloriously open and flexible space of the Young Vic, morbidly glows throughout with the knowingly fated ecstasy of self-destruction. The sleep-walk, auto-pilot pitiless ending feels well-nigh orgiastic, as pent-up elemental forces, delving back generations and centuries, slip leash!
This new version, by beautifully prose-poetical Irish playwright Marina Carr, shifts the play's early 20th Century Andalusian setting to a mystically unnamed rural land, where Ireland meets Spain – where blarney brogue sits easy alongside soulful Hispanic duende song. And this audacity pays off, due to the commonality between these two countries' cultures – their fractious sectarian histories, both imbued with deeply patriarchal Catholic-Pagan customs, traditions and superstitions, alongside familial matriarchy. It succeeds in freshly, yet faithfully, illuminating Lorca, placing events closer-to-home, at least for us Brits.
South African director Yaël Farber and her nearly all-female creative team produce an astutely gender-conscious 1¾ hour (no interval) staging – intensely atmospheric, oft-darkly-humorous – eliciting Lorca's heightened heady fusion of prose and poetry, of earth and sky; all increasingly surreal and symbolist post-wedding. A raw animalistic sexuality pervades – characters matter-of-factually discussing human matchmaking as if livestock; as breeding before slaughter. Even the dead here are characters: present.
David Walmsley is blisteringly macho yet insecure as the Groom. Olwen Fouéré simmers as his bitterly prophetic Mother, seemingly already mourning deadly events, those both past and as-yet-destined.
Aoife Duffin plays the Groom's trapped yet free-spirited Bride, a victim of her own longings and of cruel circumstance. Steffan Rhodri is pure patriarch as the Bride's Father; with wunder-veteran Annie Firbank stoically strong, yet physically fragile, as their aging, childless, marriage-mad spinster Housekeeper.
Gavin Drea is proud, bullish and possessively jealous as the Bride's lover, Leonardo, stealing her away on her very wedding night to the Groom – thereby precipitating the ensuing bloodshed; his own abandoned Wife, despairingly movingly played by helpless victim Scarlett Brookes.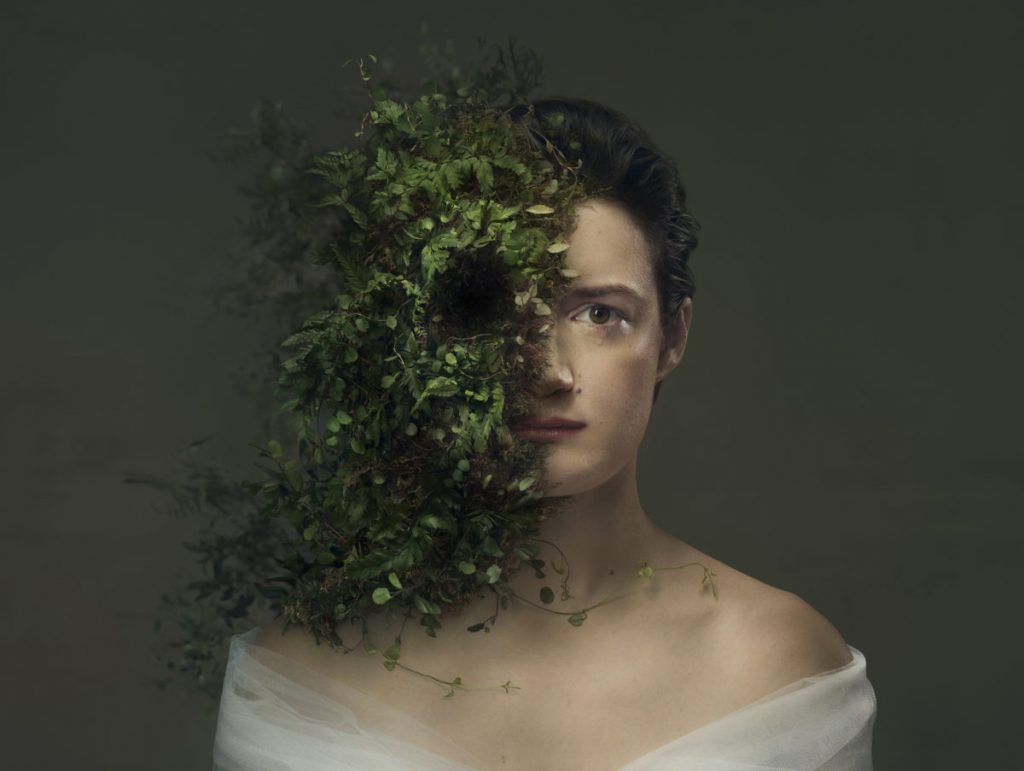 The poetic soul of the play, hauntingly voiced Thalissa Teixeira shines as the Moon, alongside Bríd Brennan as the mysterious Weaver – both of them backed by the eerie slo-mo duo of Faaiz Mbelizi and
Roger Jean Nsengiyumva as the Woodcutters, lyrically commenting on the action, Greek-chorus-like.
Susan Hilferty's spartan design frees Lorca's linguistic imagery to conjure up parched mountains and plains: the large rear slope occasionally flattening into a slidable low stage, a cable lowering for sporadic aerial work – notably Leonardo's circular "galop" coup de théâtre – all evocatively supported by Natasha Chivers' lights, Emma Laxton's sound and Isobel Waller-Bridge's ominously dreamy compositions.
But the eleven actors are the true stars – allowing Lorca (via Carr) to express, physically and vocally – aided by Imogen Knight and Kate Waters re movement and fights respectively; plus by voice/dialect duo, Rebecca Gausnell and Brendan Gunn. Cheers too to Julia Horan for casting – largely from Ireland!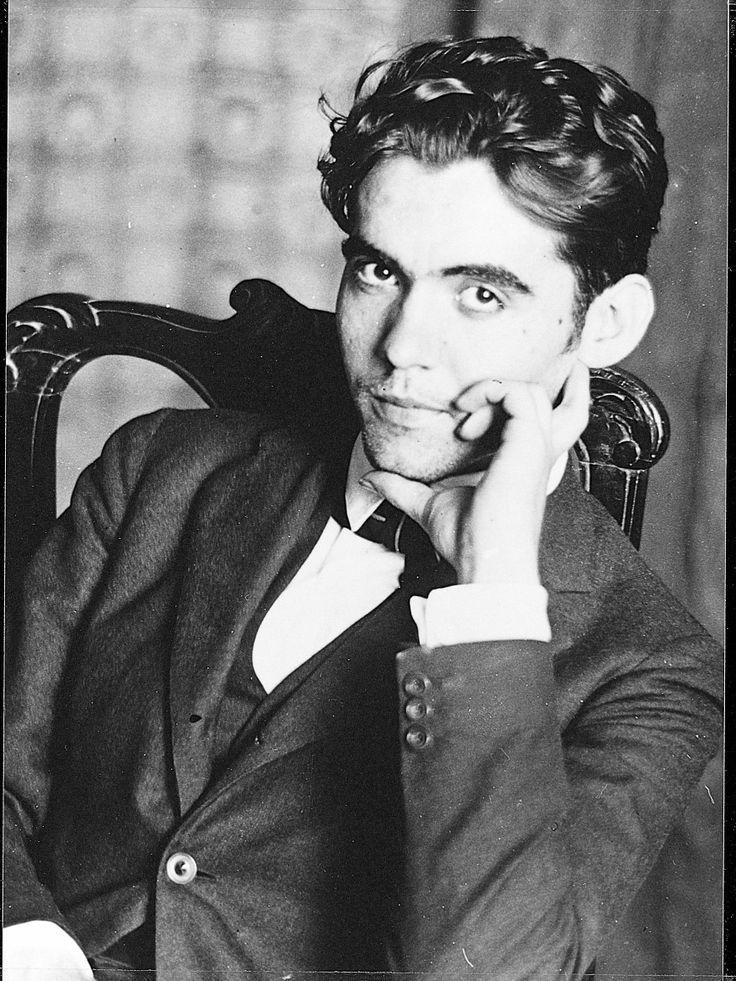 As a caution against tribalism and recurring cycles of violence – and, more specifically, as a gay left-wing dramatist's more generalised sublimated expression of his own misfit vulnerability within such oppressive hierarchy – this play still packs a timelessly ferocious fandango of a kick and a punch!
BOX OUT: Federico García Lorca (1898 – 1936), was a Spanish poet and playwright. He was a key member of the "Generation of '27", a group comprised mostly of poets who introduced new European movements like symbolism, futurism and surrealism into Spanish art and literature. His core themes include nature, nationalism and death. His most famous plays are the late so-called "Rural Trilogy": Blood Wedding, Yerma and The House of Bernarda Alba. Openly gay, he knew artist Salvador Dali; and collaborated with fellow Andalusian, the composer de Falla. He was executed, aged just 38, by Nationalist/Catholic forces at the start of the Spanish Civil War. His remains have never been found.
Blood Wedding runs at the Young Vic in London until 2 Nov 2019.
– ends –