Lake Geneva Region: Swiss Hike, Wine & Dine!
by Adrian Gillan for www.Bent.com

 Along the alluringly sloping Swiss north shore of majestic Lake Geneva, twixt Geneva itself and Lausanne, Bent's Adrian Gillan hikes, sips 'n sups amidst vineyards around Nyon and Morges!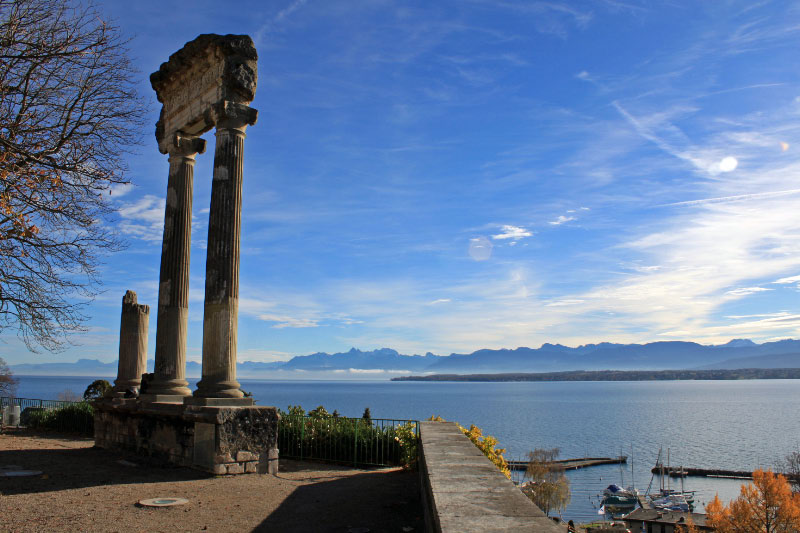 An area of outstanding natural beauty – and that's just the men! Combine top males with fine food and wine – all home-reared for millennia on the sun-kissed south-facing vine-clad slopes of the Swiss north shore of Lake Geneva, between gentle Jura Mountains and resplendent lake, across which you see the Alps, including heavenly Mont Blanc – and this is a sparkling, dazzling homo-haven to sate all appetites!
Scarce more than an hour's flight from London, then mere minutes on a famously efficient Swiss train – on a pleasingly cuckoo-clock-punctual ch-ch-choo-choo – and you are here, surrounded by sensuality; the canton of Vaud second only in wine production to the canton of Valais. The ultimate pub crawl – albeit on foot, between vast vineyards, and with the odd cab or bus to kindly assist! You'll soon know your Pinot Noir from your Chasselas! Taste le Terroir!
If you top-and-tail your trip at Nyon and at Morges – staying at hotels at or near both – you can take in a plethora of wine-tasting throughout La Côte wine region, fine-dining, mild-hiking and man-watching 'tween these two laidback lakeside towns! Oo la la! It's not called "Lake Le Man" for nothing!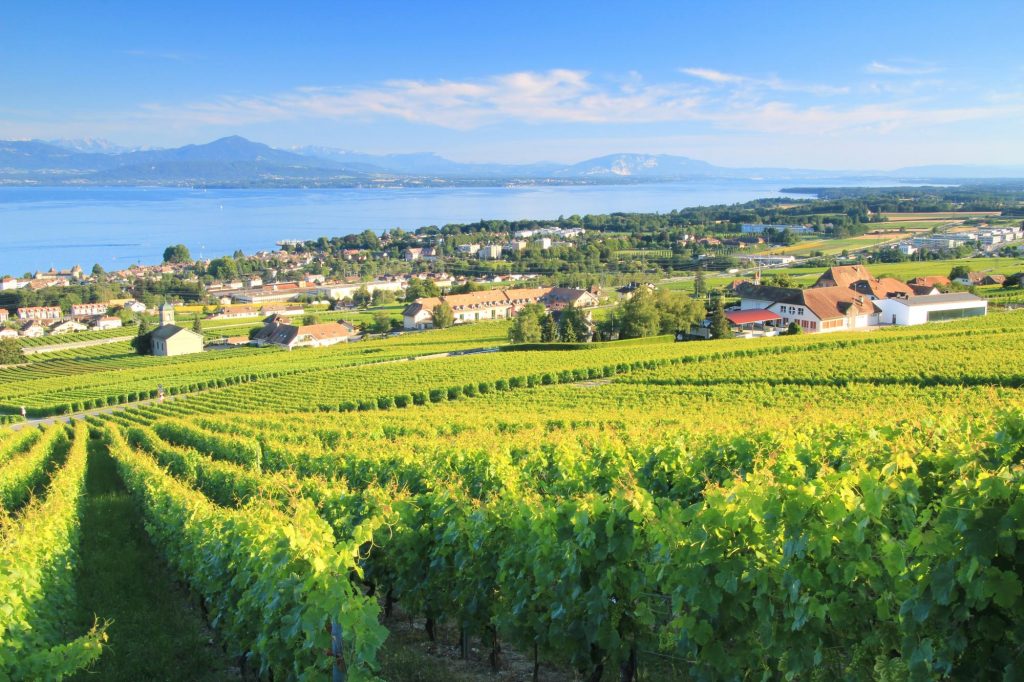 A couple of top tips for starts. Download the free app "Vaud:Guide" on Google Play or Apple Store for a range of interactive walking guides, taking in villages and vineyards around the canton, including in La Côte area; and take advantage of the "Tasting Experience" offer, whereby 50 winemakers in La Côte region offer you (no appointment needed; no obligation to buy) a six-wine taster for just CHF15 (scarce more than a tenner) – that amount waived should you buy six bottles!
Nyon area
About 25 km north east of Geneva, 20,000-populated Nyon has an attractive castle with its city museum; plus harbour and Roman Museum – as well as being home to footie body UEFA's HQ!
Base yourself at 4-star superior Hôtel La Barcarolle (Route de Promenthoux 8; Prangins; T: + 41 22 365 78 78;), a deluxe retreat perched directly on the shore of Lake Geneva, in Nyon's attractive satellite village of Prangins – whose castle is part of the Swiss National Museum. The hotel boasts a lawn, secluded outdoor pool, terrace and waterside Beach Bar for warmer months; roomy reception and lounge; ace restaurant and extremely friendly staff; plus light and airy rooms. Totally fab!
Generously gorge at informal, comfortable, hearty Auberge de Prangins (Route de Benex 1, Prangins;), a short stroll up the hill from said hotel, in the village centre; or at smart-casual café-braz Restaurant Perdtemps (Av. Viollier 1, Nyon;) in Nyon itself, for swiftly-served high-quality fare; or at Restaurant Au Coeur de la Côte (Route du Vignoble 12, Vinzel;), in nearby Vinzel, offering "hospitality and joie de vivre" in a cosy setting, plus its local 'Malakoff' speciality – breadcrumb-coated fried cheese balls, dating to Napoleonic times!
Visit Tristan Chocolatier (Chemin des Quatre-Vents 1, Perroy;) in nearby Perroy. Dreamy-eyed choco-charmer Tristan Carbonatto's food is high art – a guilty love-crime to eat!
Be sure to wine-taste and shop from some fine producers near Nyon! Try charming, dashing Fabien Monachon's Caves des Ruaz (Route du Vignoble 9, Vinzel;) and Le Château de Vinzel in aforesaid Vinzel; and Les Frères Dutruy (Grand-Rue 18, Founex;) in nearby Founex, biodynamically run by two brothers, the knowledgeably dishy, wine-wise Christian and Julien – to my humble buds, yielding some of the subtlest, most interesting results anywhere in La Côte!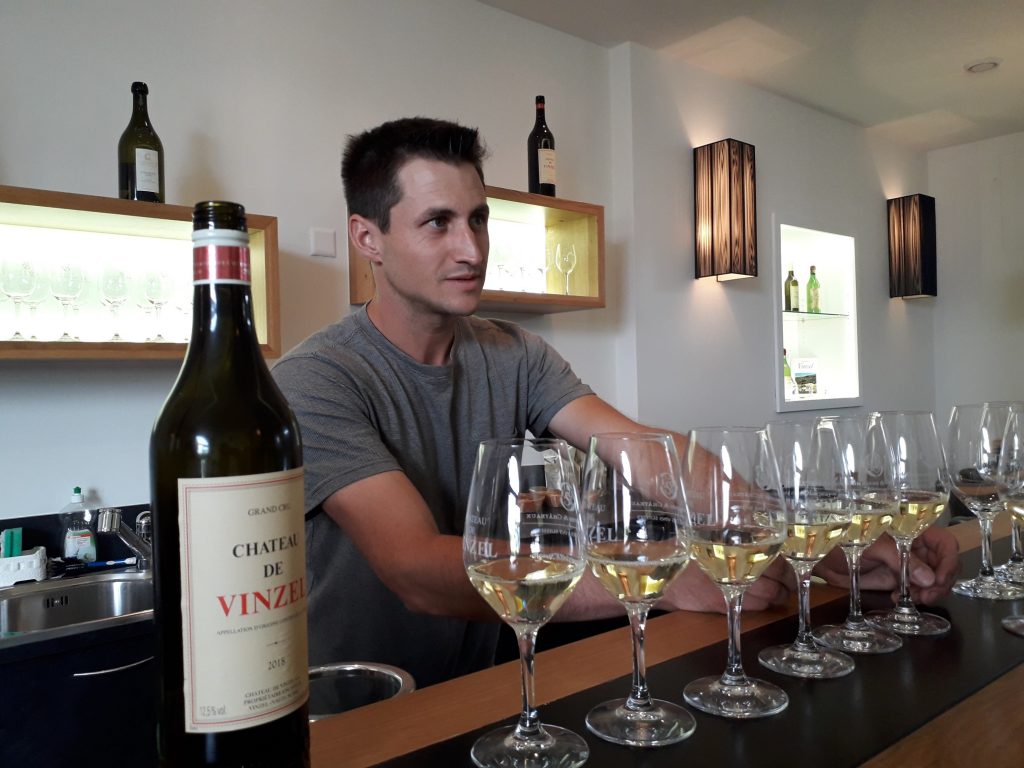 Morges area
Another 25 km east along the lake shore lies your next walkable wine hub – 15,000-populated Morges.
Constructed to protect the town in the Middle Ages, Morges Castle now houses four fab cultural gems – the military, figurine, artillery and police museums. Be sure to also stroll the Quays of Dahlias – 1½ km of shore with 2,250 dahlias in bloom, July-Oct!
Built in 1857 on the lakeside of Morges, opposite sublime Mont Blanc, the picturesque, recently-renovated Mont-Blanc Hotel (Quai du Mont-Blanc, Morges; T: +41 21 804 87 87; ) boasts ace views, not least from its shaded terrace, in summer; cheerful rooms; and a friendly team guaranteed to make your time amazing! Stay, and enjoy its two restaurants – pleasant informal Le Pavois on the ground floor, for lighter snacks, meals 'n drinks; or more refined Le Pavois 1er upstairs!
Also fine-dine at Le Casino (Place du Casino 4, Morges;), inside a monumental lakeside building dating to 1900, distinctively combining Neo-Baroque, Neo-Louis-XV and Neo-Moderne styles – housing café, theatre, terrace and function rooms, as well as said fab eatery!
Enjoy more wine tasting, and even fine local food to accompany, at award-wining Domaine de la Ville (Chemin de la Morgette 2, Morges;) – a flagship of Swiss organic wine-making in Morges, producing premium wines in a sustainable and responsible way, run by some of the coolest wine makers on Earth; plus at Domaine de la Colombe (Rue du Monastère 1, Féchy;) in nearby Féchy, run by experienced, charismatic, broodingly passionate Raymond!
There's also a fab app-assisted wine-walk from Vufflens-le-Château – with its colossal fairy-tale castle – down to Morges, lasting about two hours and passing through wine-producing villages. En route, wine-taste at family-run vineyard, Domaine Cruchon (Route du Village 32, Echichens;) where the vast majority of vines are cultivated biodynamically, without chemicals, protecting the ecosystems. You might even be privileged to meet wonderful Catherine Cruchon, third-generation winemaker – as fresh and intelligently crisp as her wines are subtle and fruity!
If all this wine leaves you feeling a tad footloose and fancyfree, you're never too far away from the odd big gay scene…
Geneva Scene
Fresh air – and fresher men – making you turn a wee bit restless? Linked via frequent train, Geneva's nearby gay scene is more laidback than Zurich's. You'll love cosy, arty, long-standing Le Phare (Rue Lissignol 3, Geneva;); new kid Nathan Café (Avenue de Frontenex 34, Geneva;); or buzzing old boy Le Declic Bar (Blvd du Pont d'Arve 28, Geneva;) with its regular drag shows, acts and entertainments. For something a tad more grown-up, try fetish club Cruising Canyon (Rue Dr. Alfred-Vincent 15, Geneva;); or sauna Bains de l'Est (3 Rue de l'Est, Geneva;), just east of city centre, like it says on the lid!
Lausanne Scene
Second-largest city on Lake Geneva, after Geneva itself, Lausanne's larger scene lies twixt Old Town 'n lake. Le Saxo (rue de la Grotte 3, Lausanne;) allures with music and drag; whilst GT's Lounge Bar (Avenue Tivoli 5, Lausanne) is a lively pre-club hang-out – perhaps before a trip to MY HOUSE Club (Place Saint François 12, Lausanne;) for a proper dance on a Fri or Sat night; or to the Gameboy Mad Gay Party, every Sunday night at MAD (route de Genève 23, Lausanne;). To let off steam, visit the Pink Beach (Avenue de Tivoli 9, Lausanne;) or Top Club (Rue Belle-Fontaine 6, Lausanne;) saunas; or jam into Trafick (Avenue de Tivoli 22, Lausanne;) with its video cabins and regular clothes-free events. Maybe stay at gay-run, lofty, roomy Rainbow Inn (Avenue de Tivoli 22, Lausanne;), slap bang next to the Pink Beach sauna – which also serves as its front desk; and to which free entry is granted for all inn guests!
Useful contacts
– ends –