Review: The Secret Diary of Adrian Mole, Aged 13¾, The Musical Ambassadors Theatre, London
by Adrian Gillan for www.Bent.com

Sue Townsend's eccentrically intellectual, awkwardly vulnerable, timeless teenage icon – set to music! Bent's Adrian Gillan is charmed by The Secret Diary of Adrian Mole, Aged 13¾, The Musical, on at the Ambassadors Theatre in London!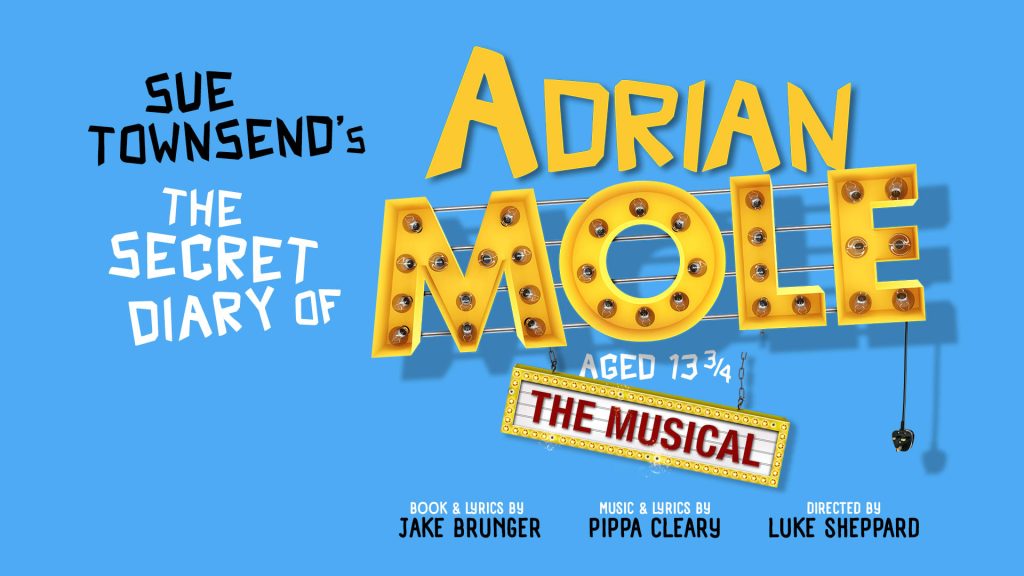 Tortured poet and misunderstood highbrow; obsessed with the length of his "thing"; suffering unrequited love, school bullying and unwanted pimples; and with an especially dysfunctional family for good measure! The teen who had it all – maybe even being a tad "on the spectrum" – so uncool, he's cool!
After premiering in Sue Townsend's hometown of Leicester in 2015, alas just a year after her death, The Secret Diary of Adrian Mole, Aged 13¾, The Musical – the tuneful adaptation of her famous novel, and the genesis of which she officially blessed – has at long last, deservedly, hit the West End.
Though set in '80s Leicester, well before mobile phones and the internet, Adrian Mole's adolescent experience – laugh, cry, cringe – is surprisingly timeless and universal. Townsend – whose writing is so witty, warm and well-observed, brimming with laugh-out-loud one-liners – amazingly seemed to know what it was like to be an adolescent boy, better than even any adolescent boy! Moreover, her love of all her characters, not just of Adrian, shines right through, so we laugh with, not at them!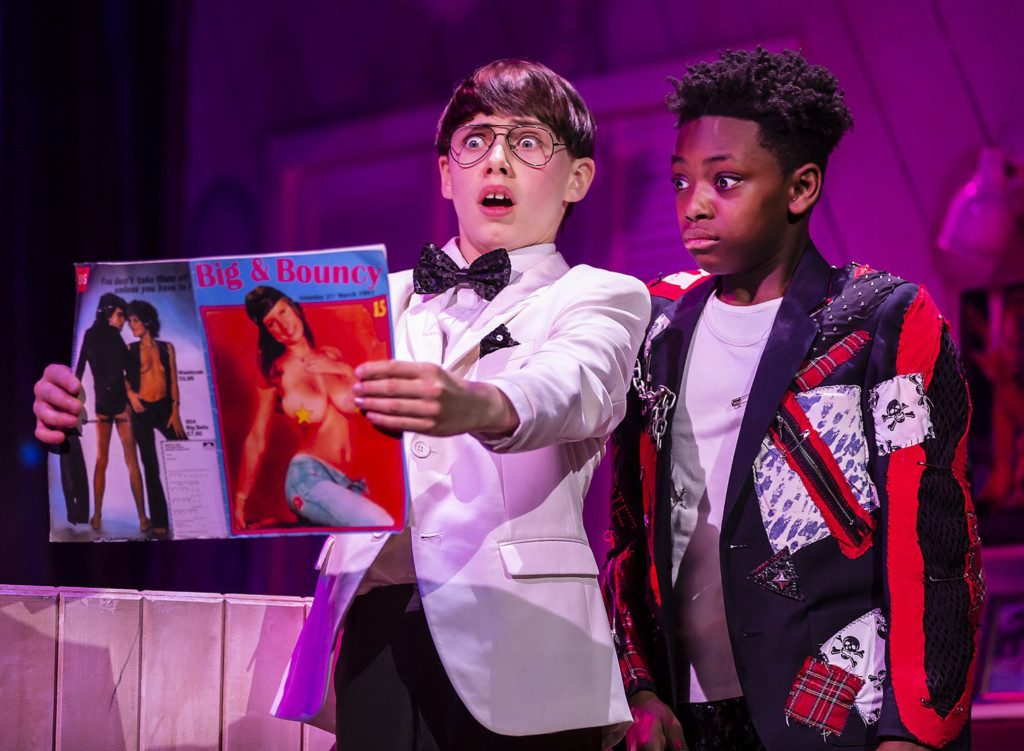 With 'book'/lyrics by Jake Brunger and music/lyrics by Pippa Cleary – this clearly their labour of love – the infectious script and score stays humorously and endearingly close to the outrageous original, bringing Adrian's now-well-nigh-40-year-old tale of teen trials-n-tribs to life for a whole new generation.
The 2¼ hours (including interval) whizz along, in a joyous tone suitable for all ages, 12-112. Even my own 13¾ yo son loved it – albeit at times admittedly aptly secretly, from behind his raised collar!
Michael Hawkins, playing the title role the night we saw it, gives an extremely focused and mature portrayal of our totemic teen – succeeding in making Adrian both unique and strangely archetypal – even taking his bow very much in character. Splendid!
Amy Ellen Richardson is likewise superb as his doting yet lustfully straying mother, Pauline, swept off her feet by John Hopkins as her unsubtly wooing neighbour Mr Lucas – he also brilliantly doubling up as Adrian's headmaster, the fearsome Mr Scruton.
Andrew Langtree takes Adrian's father George on a journey from thoughtless chauvinist to lover-on-the-rebound – falling for local tart Doreen Slater played rather show-stoppingly by Lara Denning, who also doubles up as flustered teacher, Miss Elf – before a rapprochement with similarly contrite wife, Pauline.
Excellent Matilda Hopkins was playing Adrian's lofty, flirty-yet-prudish love interest Pandora when we saw the show, briefly breaking young Mole's heart by dating his best friend, Nigel – well played by Cuba Kamanu in this performance.
Charlie Stripp almost steals the show, on when we saw it, as comically terrifying pint-sized bully Barry – as well as executing some brilliantly selfless puppeteering to animate Adrian's pet, "The Dog". Rosemary Ashe makes a feisty Grandma, even briefly getting to show off her fine operatic voice; and veteran actor-director Ian Talbot is nothing short of blistering as obnoxious old socialist git, Bert.
Musical director Mark Collins heads a seven-strong multi-instrumental band from the piano – players briefly spied onstage near the end – loving every single note of Paul Herbert's wonderful orchestrations.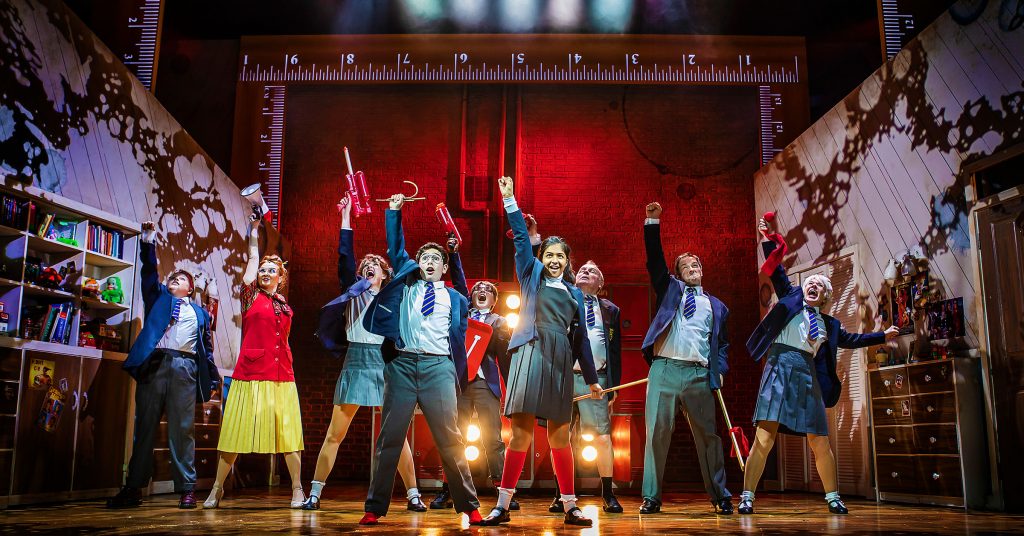 Director Luke Sheppard, directing the show in various productions since its inception, has now finetuned proceedings to perfection, supported by a creative team of Howard Hudson (lights), Greg Clarke (sound) and Tom Rogers (design/costume) – with extra applause reserved for the giant back-lit ruler-framing set!
Rebecca Howell's energetic choreography deserves an especially big bow too!
Relive the book; and indeed your own sublimely bitter-sweet youth! Don't miss!
The Secret Diary of Adrian Mole, Aged 13¾, The Musical runs at the Ambassadors Theatre in London, until 28 Sept 2019.
– ends –