Review: The Bridges of Madison County, Menier Chocolate Factory, London
by Adrian Gillan for www.bent.com
 Constrained housewife and restless wanderer fall in love; must live apart! Bent's Adrian Gillan swoons for musical, The Bridges of Madison County, at the Menier Chocolate Factory, London!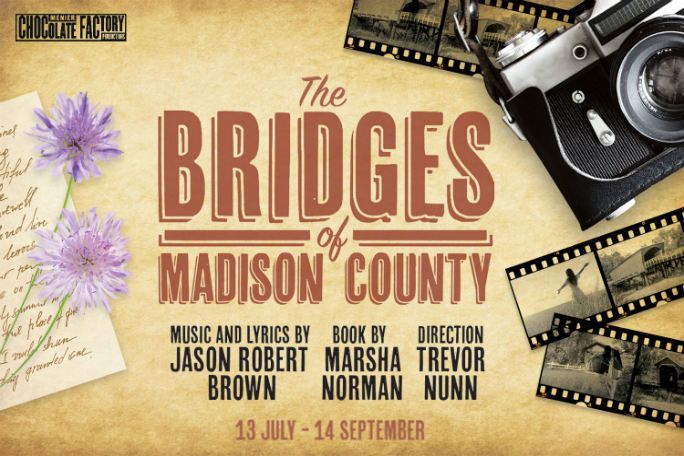 A classic mid-life-crisis romantic tale in which tad-bored middle-aged mother and housewife is mutually passionately smitten with footloose-roving middle-aged man – opposites attract, as each has what the other so lacks. The drama arises from their moral decency: her loyalty to her family, his respect for this.
The theatrical-magic-magnet that is the Menier Chocolate Factory has done it again – bagging a musically-powerful UK premiere, plus a true theatre-legend director heading a world-class creative team capable of steering the production clear of a potentially cataclysmic storyline schmaltz-trough!
This musical version of Robert James Waller's best-selling novel is dramatically adapted and tautly structured by Marsha Norman, with time-jumps intriguingly yielding back-stories, and clever home-and-away scene-splicing building tension as a time-bomb counts down, just as the passionate affair builds.
The source material's rather thin plot is similarly transcended by composer/lyricist Jason Robert Brown's wonderfully potent words and music – he won Tonies for the 2014 Broadway premiere, for Best Original Score and Best Orchestrations – and by such honest, committed performances from the fine cast, and by superior direction and design that ensure 2¾ hours (including interval) movingly waft, if not whiz, by!
Jenna Russell and Edward Baker-Duly have tremendous charm and chemistry as our star-crossed middle-aged lovers – playing Italian immigrant housewife Francesca Johnson and itinerant National Geographic photographer Robert Kincaid respectively. Both actors portray huge dignity with sensitivity, tracing the rise and bitter-sweet fall-out of the relationship brilliantly. Gentlemanly dreamboat Baker-Duly well-nigh out-Clints Mr Eastwood – who directed and co-starred in a 1995 movie version next to Meryl Streep – his spoken and singing voice both divine, him playing the requisite age spectrum beautifully.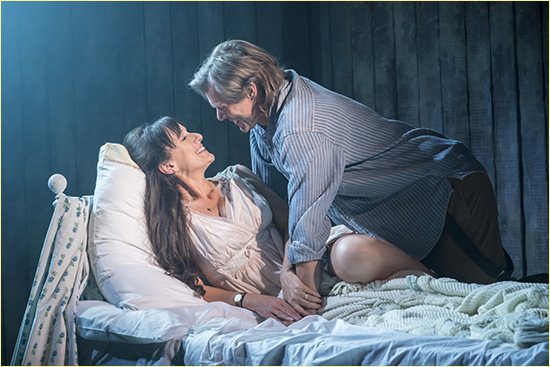 As the remainder of Francesca's family – largely away at the Iowa State Fair – Dale Rapley exudes rugged self-sufficient pride as feisty, unwittingly bull-headed and chauvinist husband Richard "Bud" Johnson; and youthful Maddison Bulleyment and David Perkins humorously and endearingly bicker and fret about their futures, as the Johnson siblings Carolyn and Michael.
Gillian Kirkpatrick and Paul F Monaghan likewise add both comedy and heart as fundamentally loyal neighbours, Marge and Charlie – she a tad frustrated and nosey, he more benignly resigned.
The core nine-strong cast is completed by a sassy Georgia Brown, excellent as Francesca's less romantically inclined sister, Chiara, and as the high-energy State Fair Singer; and by a dazzlingly-voiced Shanay Holmes, singing Robert's wife Marian's backstory quite gorgeously.
Theatre titan Trevor Nunn has not only excelled with his spot-on casting, and pitch-perfect pacing, but also via the top-notch creatives he has assembled.
Tim Lutkin's blissful lighting and Gregory Clarke's evocative sounds utterly seduce. Set and costume designer Jon Bausor should win awards for transporting the magical Menier to Italy and the Midwest, via a pair of clever mini-revolve stages and a set of seamlessly sliding flats onto which Tal Rosner's wide-ranging, segueing, oft-haunting video designs are projected. Voice/dialect coach Penny Dyer and choreographer Lynne Page play a crucial role in successfully conjuring up America's "Heartland".
And a big bow, please, for Tom Murray, heading up a sumptuous 10-piece band, rendering Jason Robert Brown's own lush orchestrations – but alas only two of whose players we ever get to see!
 The Bridges of Madison County runs at the Menier Chocolate Factory in London, until 14 Sept 2019.